A brief history of dress watches
Pocket watches were the main type of timepiece worn until the beginning of the 20th century. However, the drive for elegant timekeeping is much older. In the early to mid-1800s, men's tailoring radically simplified, eventually giving rise to the two-piece suit we know today. This simpler silhouette shifted focus onto tailoring for well-dressed gentlemen. A closer fitting suit meant that a bulky pocket watch would look out of place. For the fashionable elite of the time, a sleeker pocket watch was also a display of wealth. A thinner timepiece requires a high level of watchmaking skill and innovation—and therefore commanded a higher price. Wristwatches were only developed and popularized with the increasing use of the automobile. These first wristwatches can be considered tool watches, rather than dress watches, as they were originally made for soldiers and pilots to use during warfare. But post-WWI, demand grew for more refined and elegant timepieces to be worn decoratively on formal occasions. And thus, the dress watch was born. You can learn more about the history of mechanical timekeeping here.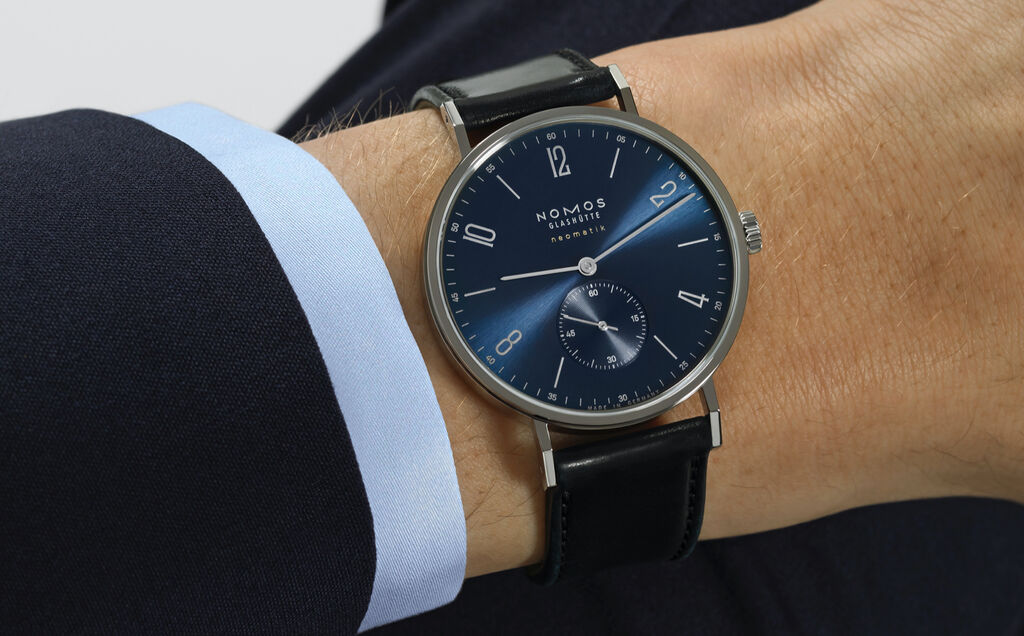 A dress watch is a timepiece that does not typically have a myriad of functions, but rather a refined design and sleek case. Picture a timepiece that fits perfectly with a suit—that's the definition of a dress watch. It should complement the wearer and express their personal style, without overwhelming the rest of their outfit.
What is the difference between a dress watch and a tool watch?
In a word—functionality. Both types of watches are carefully designed for their respective purposes. A dress watch is crafted to add elegance to the wrist on formal occasions. It rarely features complications, other than perhaps a date function. By contrast, a tool watch is made to withstand high-intensity activities and often water as well. It may also feature complications related to a particular sport, such as a rotating bezel on dive watches. This kind of timepiece is designed to be robust and functional, rather than elegant and stylish. Learn more about sport watches here: How do tool watches and dress watches differ?  
Watchfinder: find the perfect dresswatch for you
To wind or not to wind? Find the perfect dress watch online with our watchfinder. Here you can quickly and easily filter our models according to your taste. Size, shape, color - and much more. Click through to your favorite watch.
Why choose a dress watch?
There are several good reasons why a dress watch is a smart investment. Firstly, a carefully chosen timepiece can make a smart impression in formal settings—and professional life. Secondly, an elegant dress watch is an accessory that should last a lifetime. Thirdly, this archetypal type of watch is an essential for any collection. So, whether you're looking for just one timepiece or to start a collection, considering a classic watch is a great idea.
Can a dress watch be worn casually?
It certainly can! While dress watches are typically associated with more formal attire and events, an elegant timepiece will elevate an otherwise casual outfit. Jeans, sneakers, and a classic watch is a combination that can make a stylish impression in more informal settings.
When to wear a dress watch?
A formal event, a wedding, or even going to the office—there are many occasions that call for more elegant attire. For some, a watch is one of the few accessories they wear, which makes their choice of wristwear a definitive statement of aesthetics and values.
Top 3 selected: best dress watches
Admittedly, it's hard for us to choose—but we've managed to curate a small selection of our dress watches below. Even though we have much more to offer, of course. Like all our timepieces, these are developed and produced in Glashütte, Germany.
Dress watches for men and larger wrists
Dress watches for women and smaller wrists
Dress watches with automatic winding
Can a dress watch be worn every day?
The short answer is yes! Of course, this depends on your lifestyle—if sport is a major part of your daily routine, a robust sports watch may be a more suitable choice. However, for regular visits to the office, restaurants, cafés, and other more sedentary pursuits, wearing a classic watch every day will add a touch of elegance to your appearance. No additional effort required.
How to find the best dress watch for you?
With so many dress watches on the market today, it can be difficult to know where to start. Luckily, at NOMOS Glashütte we know a thing or two about fine timepieces. For a classic watch to wear elegantly, it must be correctly proportioned for your wrist. Thereby the dial diameter is not the whole story—the lug-to-lug width should also be considered. This should not exceed the width of your wrist and, ideally, should be a little shorter. By the way, we include the exact lug-to-lug measurements of every watch in the product details. Alternatively you can search the NOMOS collection by size here: to the watchfinder.
The choice between automatic and manual winding is a whole topic for itself. When it comes to dress watches in particular, automatic movements tend to make watches bulkier, as the winding rotor requires space. The automatic calibers from NOMOS Glashütte, however, are an exception to the rule. At just 3.2 mm (DUW 3001) and 3.6 mm (DUW 6101) in height, they allow the watches they power to retain an outstandingly slender profile. Learn more about these innovative neomatik calibers from NOMOS Glashütte here.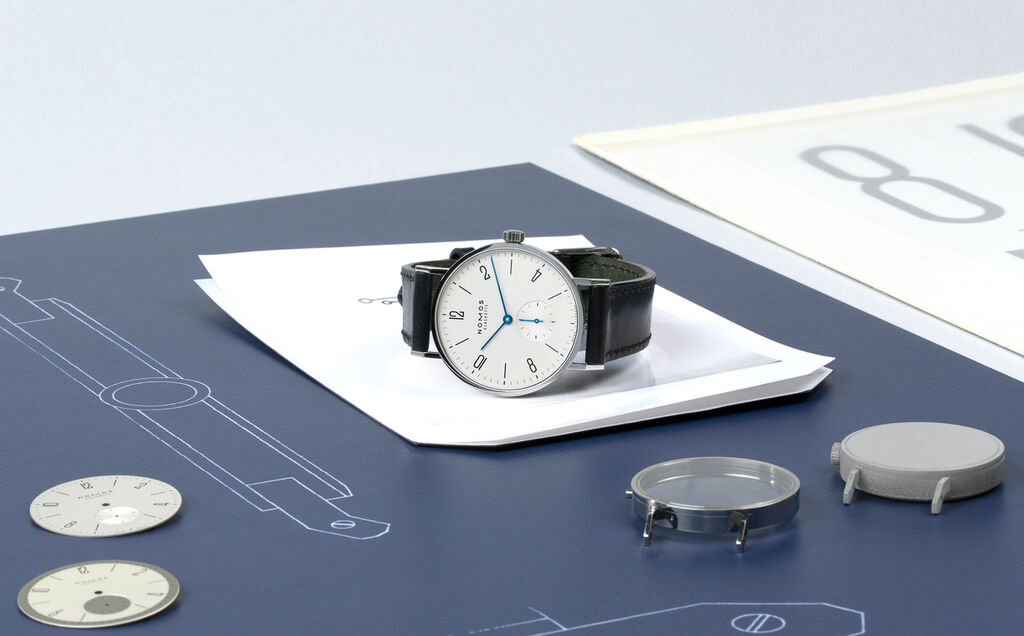 What design should you choose for a dress watch?
If there was a simple answer to this question, there would only be one dress watch on the market! At NOMOS Glashütte, we follow the Bauhaus principle that "form follows function". As the main purpose of a classic watch is to add a sophisticated touch to the wrist, there is no need for a complicated dial design or additional functions. A refined dial design, reduced to the essentials, will make an elegant impression—and is the best choice for formal occasions. In moments when it would be considered rude to take a conspicious look at your wrist, a watch that will allow you to check the time with a quick glance is ideal
What does Bauhaus design have to do with NOMOS Glashütte?
NOMOS Glashütte is a member of the Deutscher Werkbund, a forerunner of the Bauhaus movement. Founded in 1907 by artists, architects, and entrepreneurs, the association endeavored to create the perfect union of functionality, quality design and industrial manufacturing. This is a mission at the heart of what NOMOS Glashütte still does today. When it comes to making well-designed dress watches, the central question remains: Is the time easily legible with a glance at the wrist?
How can you tell if a design will stand the test of time?
Choosing a design that will stand the test of time can be a challenge. However, there are a few principles that will guide you away from passing trends and towards long-lasting style. Paying attention to the small details is essential—are the hands and the hour markers well balanced? Does the dial integrate well with the case? Straightforward, clean designs tend to retain their appeal. Last, but certainly not least, choose a design that underlines your personal style. If you have a signature color, wear it on your wrist!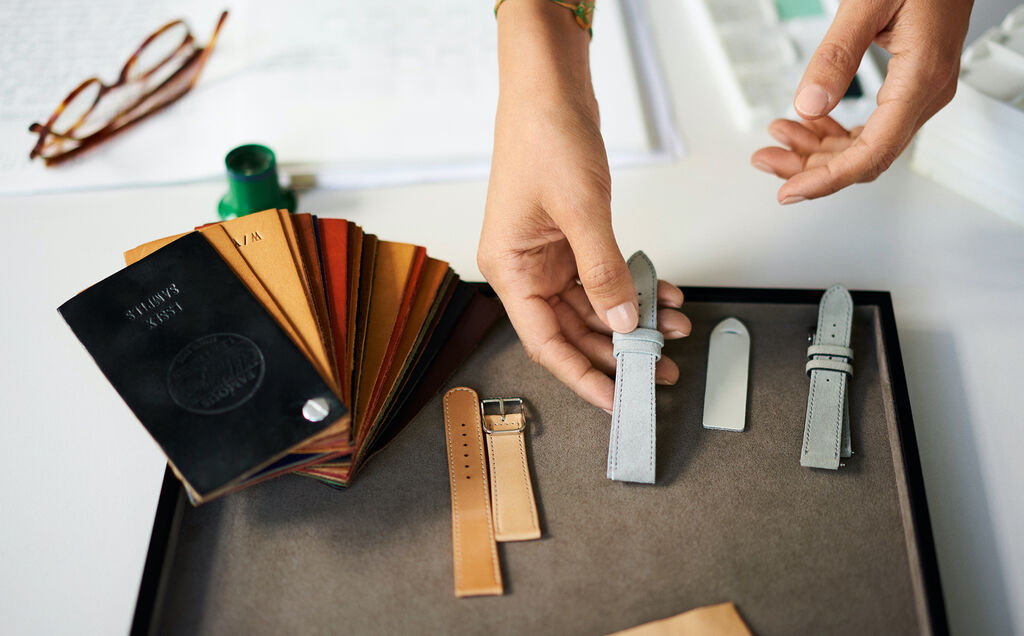 Which materials are best for a dress watch?
High-quality materials are a requirement for any fine timepiece, especially a dress watch. These will ensure that your classic watch continues to add an elegant touch to your outfit. For example, a solid gold or stainless steel case will age better than one with gold-plating—as the first scratch will reveal the metal underneath. Solid materials can be easily polished back to a shine. This also applies to the strap, dial, and all the other parts of your timepiece
Should I choose a gold or stainless steel case?
There are benefits to both. Crafted from a precious metal, gold timepieces tend to retain their value and as such, can be considered investment pieces suitable for occasional wear. Stainless steel, being a more robust material, will withstand daily wear with ease. In short, your lifestyle and needs should be the deciding factor!
Should I choose a leather strap or a bracelet?
These days, there are a range of strap options—and yet the classic choice, when it comes to dress watches, remains an elegant leather strap. At NOMOS Glashütte, we use Horween Genuine Shell Cordovan leather for our straps. This high-quality leather is hard wearing, long lasting, and develops a wonderful patina over time. An alternative is a soft velour leather strap or even a slender bracelet crafted from stainless steel. While the right choice ultimately being a matter of personal preference, an understated strap crafted from high-quality materials will present your classic watch at its best.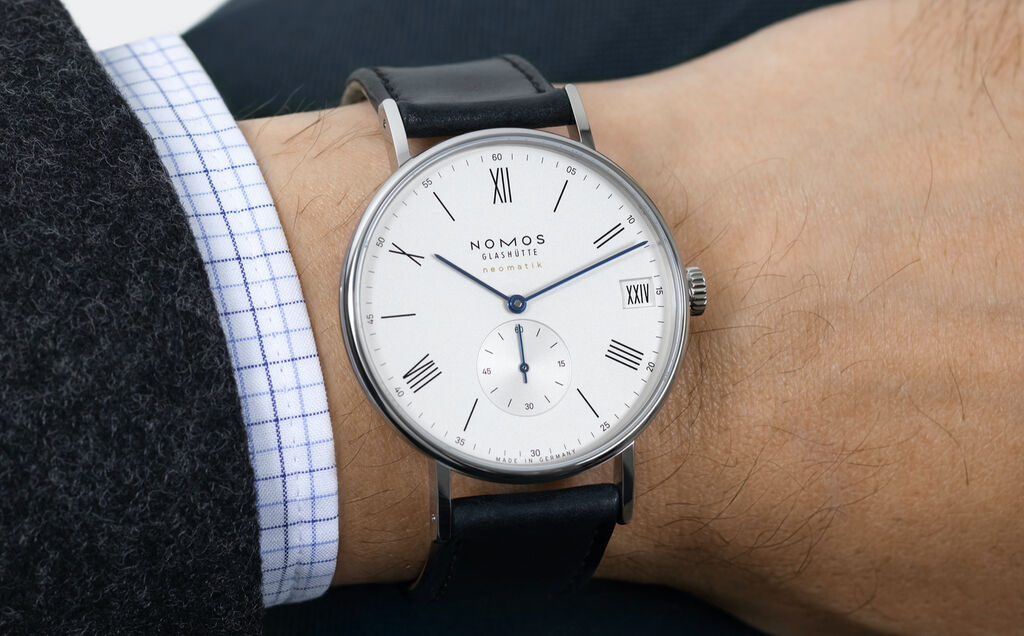 What are the essential features of a dress watch?
It's quite simple: elegance and telling the time. Typically speaking, a dress watch will have a slim profile and modest sized case. An understated dial with minimal complication will underline these balanced proportions and the refined simplicity of the watch's overall aesthetic. A high-quality metal case and strap will add the perfect finishing touches. The result is a timepiece that will add sophistication to an outfit and underline the wearer's personal style.
Does a dress watch require a date function?
On the contrary, dress watches often feature no complications at all—date or otherwise. A poorly placed date window could detract from the overall symmetry of the dial. That said, this doesn't need to be the case. In our Ludwig neomatik 41 date (ref. 262) for example, Roman numerals are integrated into the date as well. The result is additional functionality that does not detract from the elegant aesthetic of the overall dial.
Which other complications are there?
While the date is the classic complication in watches, it is by no means the only one. Complications in mechanical watchmaking refer to the additional functions that a timepiece can have—above and beyond its main task of telling the time. Some other complications you may find in a dress watch include the power reserve indicator, a second time zone, or even a moon phase.