A brief history of tool watches
Ultra precise timekeeping matters beyond the bounds of professional sports. As early as the 1880s, precise marine chronometers were used on merchant vessels and research expeditions. At the beginning of the 20th century, watchmakers supplied chronometers to the shipping and aerospace industries to enable exact timekeeping and navigation on ships and airplanes—later drawing on their experience in manufacturing for aeronautics and the navy to make their dive and pilot watch collections. Illustrative of this is how the pilot's watch was developed. In the early 20th century, the Wright brothers made the first successful attempts at flight; and the pilot watch became an indispensable instrument on board. During the First World War, it was a pocket watch in a leather case, attached to the wrist or else affixed to the cockpit. These early pilot watches featured a small seconds dial for exact timing. Soon, airplanes were able to fly longer routes, and as a result pilot watches were used for navigating—large, extremely precise observation watches were employed to determine longitude and were worn on the forearm, over the uniform. "Observers" on board read the watches. In 1927, Charles A. Lindbergh was the first pilot to cross the Atlantic on a solo flight. He used the plane's airspeed gauge, a compass and a wristwatch to ascertain his position, but was not satisfied with this method of navigating. Lindbergh commissioned development of a watch with a bidirectional bezel showing the hour angle of Greenwich, a critical element in determining longitude.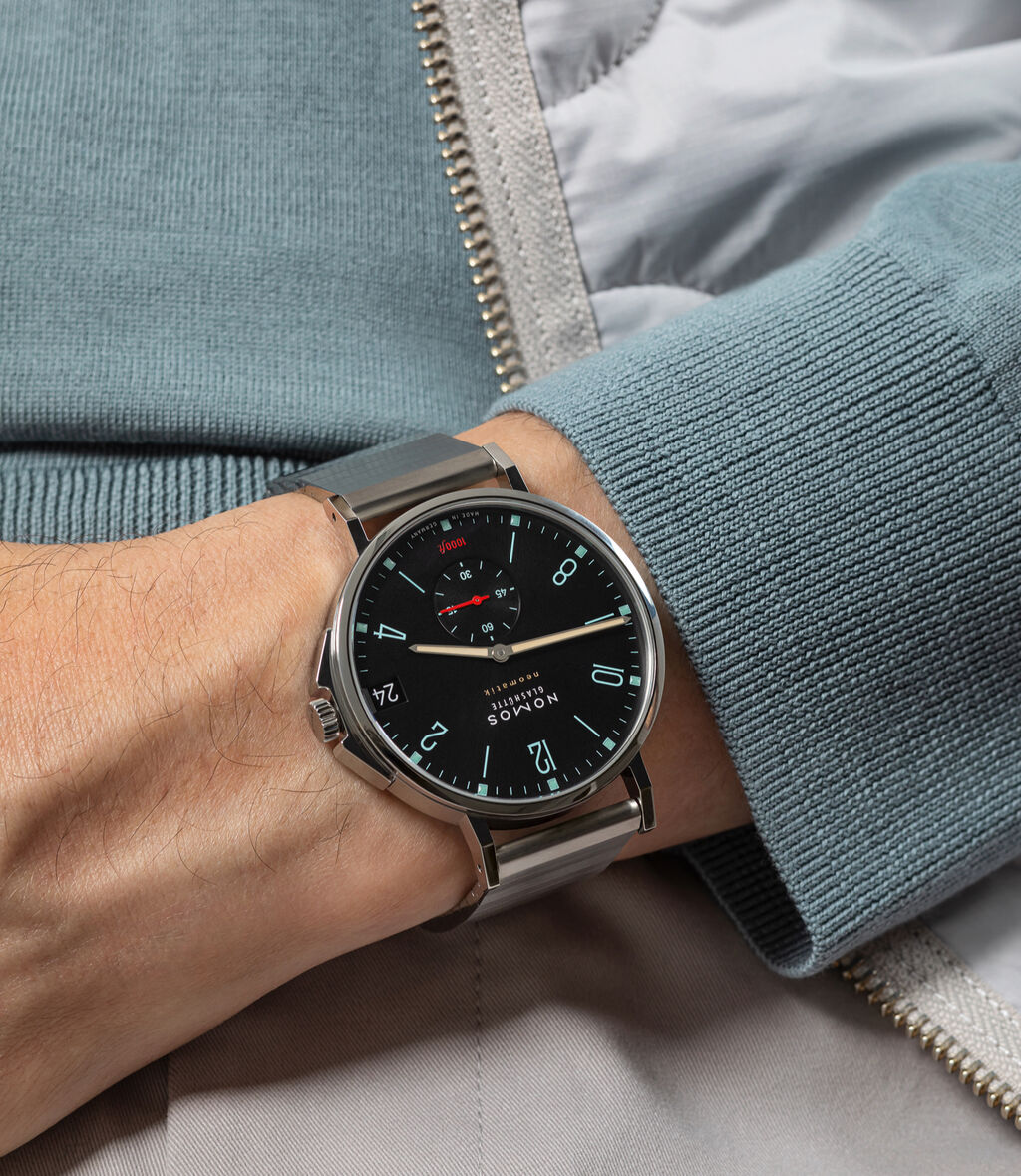 Tool watches are large and striking: they have robust cases, broad bezels, high-contrast luminous dials, and are highly water-resistant. Most tool watches come with an automatic caliber. Tool watches are differentiated from Sport Watches—a type of watches with additional electronic features for monitoring sleep quality, heart rate and pulse. The recommended features of your tool watch will depend on the demands of your particular sport and lifestyle. We have compiled the most important things for you to know.
How do tool watches and dress watches differ?
Generally, tool watches will be larger in diameter, and the dials will be more colorful than conventional dress watches. In addition to the movement's accuracy, water-resistance, robustness and readability are among the key characteristics of a tool watch. Technological developments have seen tool watches grow in variety. Wristwatches that use electronic extras to monitor sleep quality, heart rate and pulse, or count steps now also fall into that category. However, in this article we will be looking exclusively at mechanical tool watches. The recommended features of your tool watch will depend on the demands of your particular sport and lifestyle. At NOMOS Glashütte you will find highly precise sportive watches. Our tool watches come in diameters ranging from 36.5 to 42 millimeters and are waterproof from 10 to 30 bar.
The best sporty watches for men and women from NOMOS Glashütte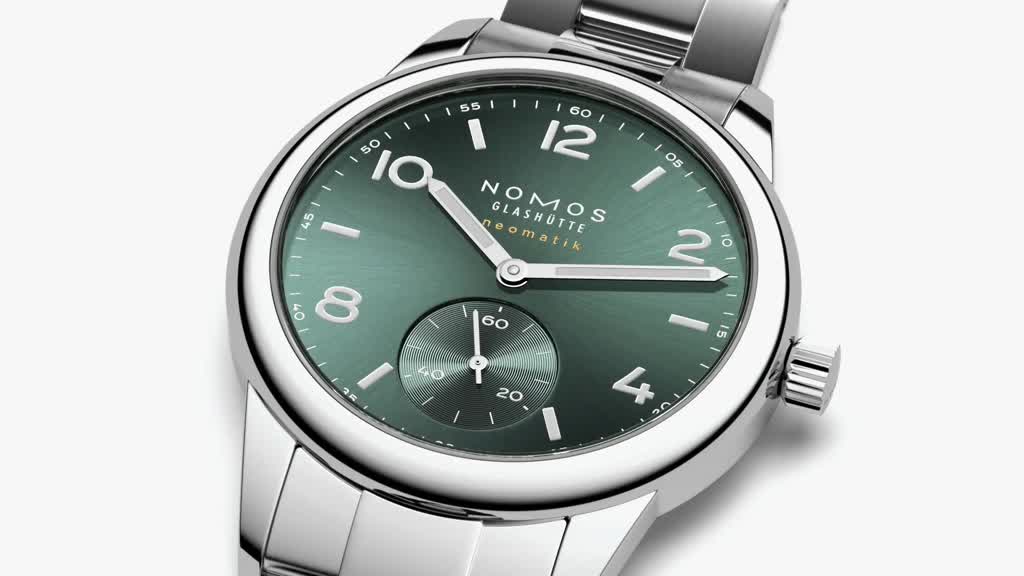 Chronographs are also considered tool watches alongside dive and pilot watches. A chronograph is a wristwatch with a stopwatch function. One or two buttons on the case serve to start, stop and reset a separate hand. Unlike stopwatches, a chronograph can measure a period of time independent of the time of day it displays: the measured time is shown by the second hand, in small sub-dials—also known as totalizers. The sub-dials can also indicate minutes and hours.
The flyback chronograph is a step beyond chronographs and shortens timing. Its second button resets the hand to zero instantly. Some chronographs also come equipped with an altimeter or a compass.
How do chronographs and chronometers differ?
A chronograph is a wristwatch with a stopwatch function. "Chronometers" are those highly precisely calibrated watches that have been certified as a chronometer following a 15-day test. The test is carried out by an accredited institute, which tests the watches for accuracy in five different positions and at a range of temperatures. Criteria for accuracy vary depending on the size of the movement: small calibers receive less energy from the tension spring and have a smaller balance cock—they are permitted a larger daily rate deviation than bigger movements. The tolerances are defined in the international ISO 3159 standard, which corresponds to the Swiss NIHS 95-11 and the German DIN 8319 standards. Not all manufacturers send their watches to the respective bodies for testing, however. A few watchmakers test the accuracy and fine calibration of the movements themselves—NOMOS Glashütte does this, for example. At NOMOS, the watches are finely calibrated in six positions rather than just five. Three different calibration systems are employed: the Triovis regulator, the DUW regulator with the NOMOS swing system, and the swan neck fine regulator in the gold Lux and Lambda models.
High water-resistance is just one of many criteria a dive watch must fulfill. When diving, correctly measuring and timing the amount of time spent below water is essential for survival, because this is the only way to determine how much oxygen reserves remain in the tank. For this reason, watches that are sold as certified dive watches must comply with the German dive watch standard DIN 8306, which corresponds to the international ISO 6425 standard.
What are the five most important features of a dive watch?
Unidirectional bezel
Dive watch bezels have a dive time scale and a luminescent dot at zero minutes. Before diving, the zero marker is set to the minute hand—the scale on the bezel indicates how much time has passed. A unidirectional rotation prevents one from staying below for too long: if the dive watch bezel is accidentally knocked or moved, this will only shorten the remaining dive time—it cannot extend it.
Water-resistant to a minimum of 20 atm
Certified dive watches have a minimum water-resistance of 20 atm, corresponding to a depth of 200 meters.
Water resistant-resistant metal bracelet or rubber strap
The bracelet or strap must not exhibit wear from prolonged contact with chlorinated or saline water. Certified dive watches have straps made from durable, easy-to-clean stainless steel or rubber. These materials do not discolor or become brittle in seawater.
Luminous hands and indices
The deeper you dive, the less light will be available to read the dial of your dive watch. Despite this, the time of day and bottom time must be easy to read. It is mandatory that a luminous coating be applied to the hands and indices of dive watches. To fulfill the DIN 8306 standard, a dive watch must be readable in complete darkness from a distance of 25cm. Superluminova is the pigment watchmakers use most frequently for dive watches.
Screw-down crown
As per DIN 8306, a screw-down crown is a standard feature of dive watches. It comprises up to ten individual parts, including gaskets, springs and the thread. Screwing it down causes a gasket to press against the case from the inside, thus sealing it—protecting the movement against water, moisture and dust. The crown should be tightened as gently as possible before diving to prevent strain on the thread.
High precision and readability were essential for the first pilot watches. Since then, technical advances have rendered pilot watches inessential in the cockpit, but even so, the DIN 8330 standard still stipulates that certified pilot watches must fulfill all criteria that would enable a pilot to navigate without other aids in emergencies. In general, however, nowadays watches which hearken back to the design of the observation and hour angle watches as well as military watches of the 1940s are referred to as pilot watches, even if they do not satisfy the DIN standard.
What are the five most important features in a pilot watch's design?
Matte black dial
Classic pilot watches feature a granulated dial in matte black to prevent distracting reflections.
Easy to read
For easy readability, pilot watches clearly delineate the hour and minute markers.
Triangular zero marker
Military requirements stipulated a triangular zero marker for pilot watches. Some watches added a dot to the left and right of the triangle.
Satin finish
The case must not mirror or reflect light. Which is why the cases of pilot watches were given a satin finish instead of a polish.
Large case
Pilot watches with a large case were worn over the sleeve or buckled around the thigh. Pilot watch diameters ranged from 40 to 55 millimeters, making them easier to read.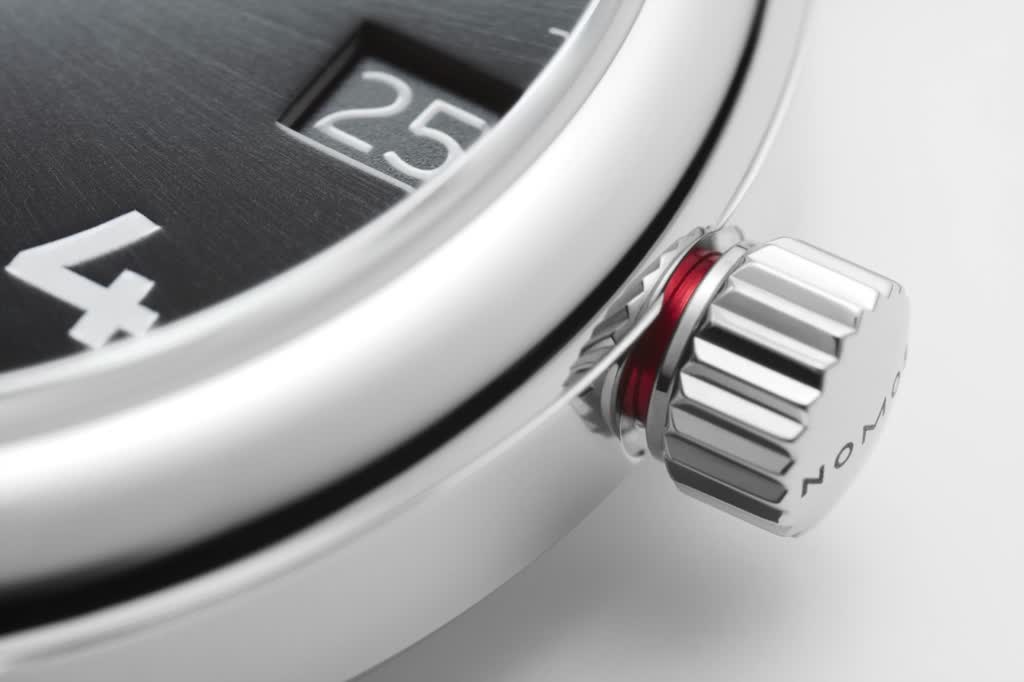 What do atm and bar mean regarding a water-resistant tool watch?
The water-resistance of watches is indicated in atm or bar. "atm" is the abbreviation for the physical atmosphere. The pressure of 1 atm corresponds to the mean air pressure at sea level. On January 1, 1978, Germany and Austria passed a law which replaced atm with the unit bar: 1 bar corresponds roughly to an air pressure or water column pressure at 10 meters. Converted, 1 atm corresponds to 1.01325 bar. The USA officially introduced bar as a unit in 1982. Most watchmakers still employ the historic usage of atm as a unit to indicate water-resistance. Watches with 10 atm or 10 bar engraved on their case are water-resistant to a depth of 100 meters. It is important to note that this does not mean you can actually dive 100 meters deep with the watch. This indication refers to a test pressure which is applied in a water-resistance test. Moving under water can in fact expose the watch to considerably higher pressure than that of an equivalent water column in a laboratory. For this reason, certified dive watches must be water-resistant to at least 20 atm.
Dive watches which enjoy the label must fulfill the stringent criteria of the DIN 8306 standard: it must have a secure clasp, be able to remain in the water for a specified time, have a bezel which allows one to select a predetermined time period, and be easy to read in the dark.
Can I go swimming and diving with any tool watch?
Watches labeled for 10 atm or 10 bar are suitable as tool watches for swimming or snorkeling. Watches labeled for 20 atm or 20 bar can be worn while diving. It is important to note that this does not mean you can actually dive 200 meters deep with the watch. This indication refers to a test pressure which is applied in a water-resistance test.
The table below summarizes what each degree of water-resistance means:
3 atm = 3 bar = withstands a test pressure of up to 30 meters; Splashproof when washing hands
5 atm = 5 bar = withstands a test pressure of up to 50 meters; Showering
10 atm = 10 bar = withstands a test pressure of up to 100 meters; Swimming and snorkeling
20 atm = 20 bar = withstands a test pressure of up to 200 meters; Diving
What makes a tool watch water-resistant?
To prevent water from entering the caliber while swimming or diving, water-resistant tool watches are fitted with plastic or rubber seals along the back of the case, crystal glass and crown. Watchmakers must take special care with the crown, because the winding stem connects directly to the movement—which is why water-resistant tool watches usually have a screw-down crown. Crown guards on both sides, as featured on our Ahoi Atlantic watches, protect the crown and the delicate winding mechanism against knocks. The back, made from stainless steel or scratch-resistant sapphire crystal, is screwed down watertight.
How long will my tool watch remain water-resistant?
Fluctuations in temperature, sweat, sunscreen and chemicals can strain the sealant and lead to a reduction or loss of water-resistance. Jumping into cold water after extended sunbathing can also negatively affect a watch's water-resistance: in addition to the pressure of the impact when hitting the water, sudden cooling generates negative pressure. This means that temporarily, the pressure on the seals exceeds the pressure guaranteed by the manufacturer. A mechanical tool watch should be checked by a specialist retailer once a year to ensure it is still water-resistant. Water-resistance is also tested and restored during a major service at a specialist retailer or workshop.
NOMOS Glashütte offers minor repairs for watches that are less than three years old and not yet in need of servicing: we test and correct all major functions, inspect the caliber and replace worn parts. Minor repairs also include regulating the watch, restoring waterproofness and carrying out a final inspection over several days.
How is water-resistance tested?
A well-equipped specialist retailer can test water-resistance without exposing the watch to water: instead, it is put in a special airtight device and subjected to negative pressure. If a tool watch is fully water-resistant, the case will expand for a time. If the watch passes the test using air, it will also be resistant to H2O molecules. You can use the NOMOS retailer search to find specialist retailers near you.
Link to the specialist retailer search
Link to servicing
Watchfinder: find the perfect tool watch for you
To wind or not to wind? Find the perfect tool watch online with our watchfinder. Here you can quickly and easily filter our models according to your taste. Size, shape, color - and much more. Click through to your favorite watch.
How is the robustness of tool watches ensured?
Whether you are out diving, taking part in a mountain bike race or going on a jog around the park, sporty people need rugged watches that continue to function despite minor knocks and shocks. The diameter and composition of the bezel as well as the quality of the materials used for the case, glass front and strap all have considerable impact on the robustness of sporty watches and tool watches. We have summarized the key features regarding tool watch robustness:
Broad bezel
The bezel encircles the dial. An important part of the watch, it supports the glass front, which is inserted into its inside groove. The bezel also provides protection and stability. It is broader in tool watches than in more elegant wristwatches and ensures that the case is more robust and sturdy.
Extra-thick sapphire crystal
Sturdy watch glass is essential to a wristwatch's robustness. Sapphire crystal (a variety of the mineral corundum) is a highly pure, synthetic crystal made from molten aluminum oxide. At a Mohs hardness of 9, sapphire crystal is the second-hardest transparent material known—only diamond is harder. In addition, sapphire crystal provides other benefits, too: it is resistant to heat, pressure, stretching and scratching, which makes it ideal for watches. The NOMOS Club Sport neomatik 42 date blue and Club Sport neomatik 42 date black watches are fitted with extra-thick sapphire crystal—at 2.1 millimeters, it is more than twice as thick as the sapphire crystal used in Tangente.
316L stainless steel
Stainless steel is a very popular choice for watch cases due to its rust-resistant nature and the variety of surface finishes it makes possible. It is an optimized steel: depending on the intended use, a refiner is added during steelmaking. NOMOS Glashütte uses the especially robust stainless steel alloy 316L for all its steel cases. This material has a low carbon content—the L stands for low carbon—and is easy to process. The addition of 2–2.5% molybdenum provides excellent corrosion resistance in chlorinated water. And the 316L alloy has another advantage: its extremely low nickel content makes this stainless steel, which is also called surgical steel, highly hypoallergenic.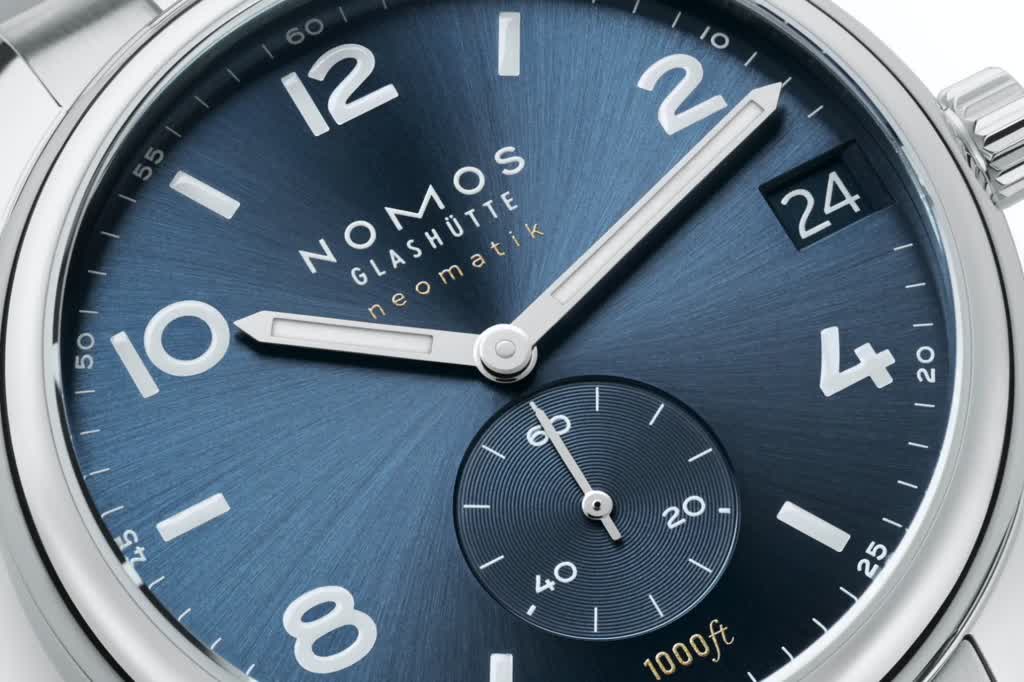 Why is good readability essential for tool watches?
People who love spending time outdoors do not love being blinded by reflections or infuriated by cluttered dials when taking a quick glance at their tool watch. Anti-reflective sapphire crystal, wide numerals and hands, fine minute markers, bold hour markers and a clear color contrast to distinguish between the dial and typography all contribute toward making a tool watch more readable. Hands, numerals and hour markers coated with Superluminova glow in the dark and under water, making tool watches more readable as well.
Superluminova is a luminous material which can store a lot of light. Manufacturers use the material to coat numerals, hands and indices to make a watch readable at night and under water. A phosphorescent dial is essential in a dive watch. Unlike conventional luminous pigments, Superluminova has the advantage of being resistant to fading: the pigments do not fade, not even after being exposed to intensive sunshine. Superluminova comes in a variety of colors, although the color visible in the dark may be different to its daylight appearance—luminous numerals that look beige in daylight will show the time in bright turquoise when diving. In contrast to earlier methods that were used, Superluminova is free from radioactive materials and is about one hundred times as luminant as previous inactive phosphorescent pigments.
How does Superluminova work?
Superluminova luminous pigments are strontium aluminate based, manufactured without using radioactive materials, and are phosphorescent, which means they can store energy and release it as visible light without needing to be heated. Superluminova's luminous quality is based on the principle of phosphorescence: following exposure to shortwave light, light is emitted over time. And what physics are involved? Activated by light, the atoms begin to oscillate between two energy states. When transitioning from the high to the low state, they emit energy in the form of light. The duration of a tool watch's afterglow will depend on how long it was exposed to light and how many light-absorbing crystals are present—the more generously Superluminova is applied, the more intense it will continue to glow.
How is Superluminova applied to NOMOS watches?
Superluminova (sold under the brand name Super-LumiNova®) is sent as a powder by the family-owned Swiss company RC Tritec AG to watchmakers and dial manufacturers, where it is then liquified. Several options exist to apply the pigment, depending on how the dial is designed. In NOMOS watches from the Autobahn series, Superluminova is glued on—the concave dial provides sufficient room for the rather thick and highly luminescent blocks of Superluminova. In contrast, pad printing is the best choice for Ahoi Atlantic's delicate numerals. The dials of the Club Sport series have room for plenty of Superluminova. An applicator is used to fill the luminous pigment in the engraved numerals. Club Sport neomatik 42 date blue is the NOMOS watch with the brightest afterglow in the current collection.