A brief history of watchmaking in Glashütte
The history of watchmaking in Glashütte began in 1845, when Ferdinand Adolph Lange, a watchmaker from Dresden, moved to the small town in the Ore Mountains and founded the company A. Lange & Cie. With the help of a state loan, which he finally obtained in May 1845 after a year and a half of persuasion, he set up a watch production workshop in Glashütte based on the division of labor he had become acquainted with during his years of traveling in Switzerland. However, he did not intend to produce watches with a cylinder escapement, which was common in Switzerland, but instead timepieces that used a pallet escapement. Lange trained the younger inhabitants of the impoverished former mining town as screw makers, wheel makers, spring barrel makers, balance spring makers, hand makers, engravers and case makers who, after completing their apprenticeship, worked independently and supplied him with their parts. This rapidly growing infrastructure for German watchmaking encouraged the establishment of an increasing number of watchmaking companies, finally resulting in the opening of a central training school for the whole of Germany in Glashütte. The first German Watchmaking School commenced teaching in 1878 under the direction of Glashütte watchmaker Moritz Grossmann. Among the 18 students in the first class were as well two young men from Geneva. For decades, Switzerland would be one of the most prominent countries of origin among the international watchmaking students at Glashütte.
Watchmaking was a burgeoning industry at the time. With the introduction of railroads in the United States and Europe, the population had become mobile and needed an accurate means of timekeeping in their everyday life. In the early 1860s, 80 watchmakers were already producing around 800 watches a year for four companies in Glashütte. Watches were being exported to other countries in Europe, as were parts and tools. Due to customs restrictions, only unfinished movements without cases were shipped to the USA, but this served a stable source of income for Glashütte watchmakers for many years. Even Tiffany's in New York was a customer of A. Lange & Söhne in Glashütte.
Lange was also technologically innovative. His goals were refinement and elegance while offering the greatest reliability. For the calculation of parts, he introduced the metric system, replaced the usual bridge design as a cover for the movement with a three-quarter plate, embedded the stopwork in the top plate and developed a safe and accurate winding technique that worked without a key. Glashütte watches have also been adorned with the Glashütte sunburst decoration since the early 1870s: a cut that radiates outward from the center, so that when the watch is tilted, the face appears to rotate due to the change in the angle of the incoming light. And in 1874, the first ladies' watch was made in Glashütte, a 25 millimeter model with a second hand.
For a long time, the watch industry in Glashütte protected itself against and resisted the machine-assisted serial production of cheaper watches for the broader market, like the ones the American company Waltham presented at the 1876 World's Fair. In particular, the market leader in precision pocket watches, the company A. Lange & Söhne, repeatedly opposed attempts at the beginning of the 20th century to technically simplify Glashütte watches or to make them cheaper via the use of imports. However, the traditional range of watches was not enough for the Glashütte production site to weather the economy in those years, as times changed and war came. Glashütte stood for exclusive pocket watches, and its business collapsed in 1914. Many workers had to be laid off. It was only through orders from the army, also for war equipment, that the Glashütte factories were able to survive.
Starting in 1918, Glashütte watchmakers attempted to competitively market cheaper pocket watch models via a cooperative production venture, but despite increasing quantities, this attempt fell victim to the crisis-ridden economy. From the bankruptcy estate of Präzisions-Uhrenfabrik e.G.m.b.H., both Uhren-Aktienfabrik Glashütte (URAG) and Uhren-Rohfabrik Glashütte (UROFA) were founded in 1926. With the help of Swiss personnel, imports and later also government subsidies, they laid the foundation for an independent German production facility for wristwatch calibers in Glashütte.
During World War II, Glashütte's production of wristwatches for civilian use was suppressed by the Nazis, and much of UROFA's and URAG's resources were used to produce aviation chronographs. A. Lange & Söhne shifted its focus to marine chronometers. The use of forced laborers in Glashütte is documented. Up to 3,000 prisoners of war had to work twelve-hour shifts in Glashütte's precision mechanics and watch factories, producing not only chronometers but also time delay fuses. The Glashütte Watch Museum is conducting research on this.
In 1945, the Soviet military administration had Glashütte's watch industry almost completely dismantled as reparations. The remaining sections were expropriated and merged in 1951 to create a state-owned enterprise in East Germany. VEB Mechanik Glashütter Uhrenbetriebe (GUB) produced mechanical wristwatches with its own calibers, and from the 1960s also with automatic winding, in particular the extra-flat special automatic caliber of the Spezimatic watches. Quartz watches, marine chronometers and other instruments were also part of the product range, with a large part of the goods being destined for export.
In 1990, after the fall of the Berlin Wall, the Treuhandanstalt took over the privatization of the GUB, and a number of new companies were founded to propel the history of watchmaking in Glashütte into the present. The reconstruction and reopening of the historic astronomical observatory above Glashütte and the establishment of a chronometer testing center there was also an important step in keeping the Glashütte tradition of precision watchmaking alive.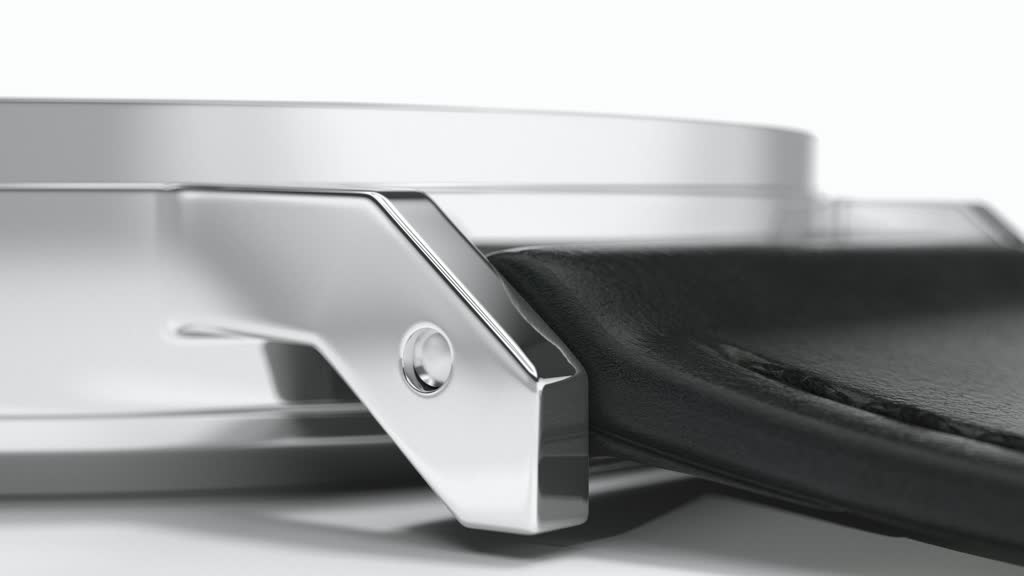 How do you pronounce "Glashütte"?
The German umlaut "ü" in "Glashütte" is difficult to pronounce for English-speaking watch enthusiasts. In fact, there is no phonetic equivalent for "ü" in the English language. You could try making the sound by forming the mouth into the position for an "oo" (German: "u") while simultaneously trying to pronounce an "ee" (German: "i"). Those familiar with phonetic spelling can use this: ˈglaːshʏtə. And in cases of doubt, we find "Glashitte" with the sound in "hill" better than "Glashutte" with the sound in "hoodie". But that's a matter of taste.
Watchfinder: find the perfect mechanical watch for you
To wind or not to wind? Find the perfect mechanical watch online with our watchfinder. Here you can quickly and easily filter our models according to your taste. Size, shape, color - and much more. Click through to your favorite watch.
What does "Glashütte" mean?
It means "glassworks" in German, which is a production facility for glass production and glass processing. Since glass production requires sand, soda or potash, feldspar and lime, glassworks were mostly built in mountainous and wooded regions starting from the Middle Ages. In German-speaking countries, there are dozens of towns or places that have "Glashütt", "Glashütte" or "Glashütten" in their names.
The name of the small town of Glashütte in the Sächsische Schweiz-Osterzgebirge district also probably originates from a glassworks from the 15th century. Around the turn of the 16th century, silver ore was mined in the Glashütte area, which led to rapid but short-lived wealth in the region, as the silver deposits were quickly depleted. The copper mines in the area were somewhat more productive, but they did not provide sufficient income for the population, and mining there ceased entirely in 1875. Instead, Glashütte in Saxony had already made a name for itself as a watchmaking town by that time.
What is a "Glashütte watch"?
The question of what a "Glashütte watch" is—and above all: what is not a Glashütte watch—was a question that watch industry sought to answer already 120 years ago. Is it a watch with certain characteristics that could also have been made elsewhere? Or does this watch guarantee a certain level of performance? Is the term "Glashütte" for watches therefore a designation of origin, an indication of a type or a sign of quality? Today, you could say it's all three. But the struggle, first for a "Glashütte Rule" at the beginning of the 20th century, then a hundred years later for a legally binding "Glashütte Regulation," was a tough and oftentimes bitter one. It reflects how Glashütte first set technical, then economic standards.
In the "Glashütte Rule," the Dresden Chamber of Industry and Commerce stipulated in 1930 that only watches that were "at least essentially" manufactured in Glashütte and possessed a precision regulator "that exhibited consistent performance as a timepiece over decades" could be called "Glashütte precision watches." What in turn may be considered a "precision watch" was outlined by the German Watchmakers' Association in 1904 with regard to the pocket watches common at that time as follows: "It must feature jewels of the very best quality, a hardened balance spring and cut compensation balance, and regulated so precisely in all positions and temperatures that it could obtain an accuracy certificate from a German or Swiss observatory." The establishment of this rule had become necessary because, on the one hand, new techniques such as "stencil watch" production were spreading and satisfying the growing demand with cheaper, increasingly automatically produced prefabricated movements, and on the other hand, a group of Swiss and German watch companies wanted to exploit Glashütte's reputation for their own profit by imbuing their own unfinished movements with Glashütte attributes. When the traditional company A. Lange & Söhne sued Nomos-Uhr-Gesellschaft Guido Müller & Co. in 1909 for selling inexpensive pocket watches from Glashütte, the question of the characteristics of a Glashütte watch was discussed in court for the first time. The matter was not resolved, however, and the proceedings ended in a settlement. A few years later, A. Lange & Söhne sued the Swiss-German company Alpina Glashütte and the German precision pocket watch factory J. Assmann Glashütte for unfair competition due to the use of Swiss unfinished movements, although the quality of these watches was unquestioned by experts. The struggle to preserve Glashütte's specific precision technology while maintaining competitiveness was a difficult one at the time, and even the Glashütte Rule of 1930 continued to leave open the question of which manufacturing steps should actually be considered as "essential."
Even in the newly arisen corporate diversity of the Glashütte watch industry after 1990, the question of the "Glashütte" seal of quality was raised, taken to court, and finally answered by lawmakers in 2022. The Glashütte Regulation has made German watches from Glashütte a legally protected product since February 22, 2022. A watch protected under the Glashütte Regulation must have undergone at least 50 percent of its "essential manufacturing stages" in Glashütte. Only then may it carry the "Glashütte" designation of origin, for example, on the dial. What is meant by "essential manufacturing stages" is now clearly defined: the manufacture and casing of the movement and the final inspection of the watch. The following must take place entirely in the territory of town of Glashütte: the assembly and starting of the movement, the fine-tuning, the assembly of the dial, the installation of the hands and the encasement of the movement. The mechanical watches from NOMOS Glashütte achieve a depth of added value, as defined by the Glashütte Regulation, of up to 95 percent. From the smallest parts for our high-quality mechanical watches to the development of the innovative calibers and the setting in motion of the movement, everything happens in the place that became the center of German watchmaking over 175 years ago and is now one of the world's most important locations for this profession.
Award-winning watches from NOMOS Glashütte
Which brands are Glashütte brands?
In the more than 175 years of watchmaking history in Glashütte, Saxony, watches of many brands have been manufactured according to Glashütte traditions. F. A. Lange's company was the first to offer watches from Glashütte in 1845. But the production method based on the division of labor, which he established and for which he trained watchmakers of all trades, was suitable for supplying other companies with watch components as well. Some historical brands of German watches made according to Glashütte tradition are: J. Assmann/Glashütte i. SA, Deutsche Anker-Uhren-Fabrik, Uhren-Fabrik Moritz Großmann, B. Junge & Soehne, Straßer & Rohde, Deutsche Ankeruhrenfabrik Richard Glaeser, Präzisions-Taschenuhren-Fabrik Ernst Kasiske, and VEB Glashütter Uhrenbetriebe. Today, there are nine manufacturers of Glashütte watches: Bruno Söhnle Glashütte, Moritz Grossmann, Mühle Glashütte, NOMOS Glashütte, Tutima and Wempe Glashütte. The companies A. Lange & Söhne, Glashütte Original and Union Glashütte belong to Swiss corporations.
NOMOS Glashütte was founded in 1990 by Roland Schwertner. With the name, he continues the tradition of Nomos Uhr-Gesellschaft Guido Müller & Co. which imported Swiss watches to Glashütte between 1906 and 1910 and sold them as "Glashütte watches." Today, up to 95 percent of the production and sales of NOMOS watches, which have won many awards, take place in Glashütte: in the precision machining and manufacturing departments in Glashütte-Schlottwitz, in the NOMOS chronometry at Erbenhang, and in the former Glashütte train station. This makes NOMOS Glashütte a manufactory that develops and produces its own calibers. Furthermore, most of the work at NOMOS Glashütte is done by hand, in keeping with the best Glashütte traditions.
Who owns Glashütte watches?
Of the nine manufacturers of Glashütte watches today, six companies are owner-managed: Bruno Söhnle Glashütte, Moritz Grossmann, Mühle Glashütte, NOMOS Glashütte, Tutima and Wempe Glashütte. The companies A. Lange & Söhne, Glashütte Original and Union Glashütte belong to Swiss corporations. NOMOS Glashütte was founded in 1990 by Roland Schwertner. In addition to him, Uwe Ahrendt and Judith Borowski are part of its management today.
Characteristics of Glashütte watches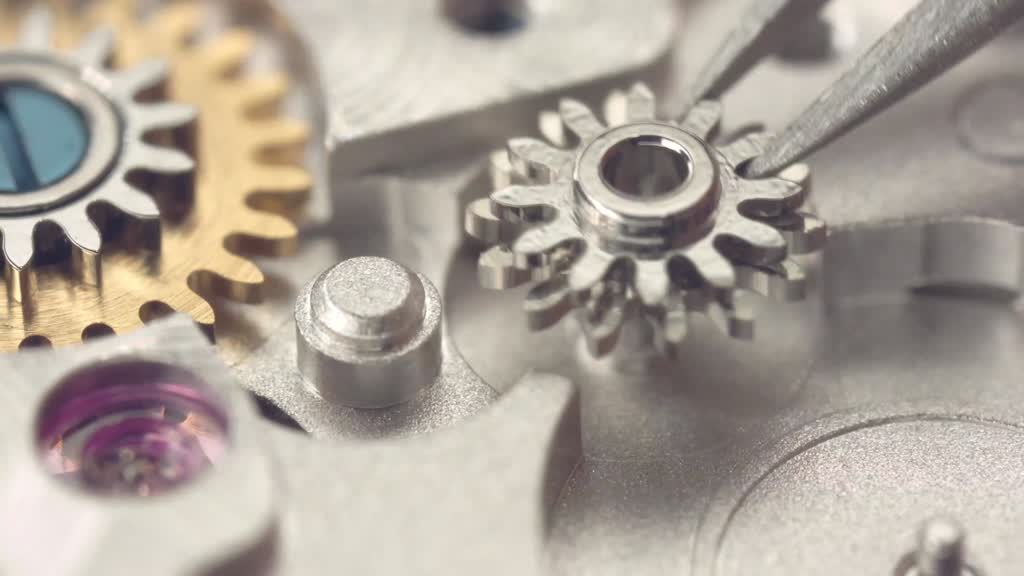 How can you recognize a Glashütte watch?
Glashütte watches are German watches manufactured in Glashütte in Saxony. Only watches that are at least 50 percent manufactured in the town are allowed to bear the name "Glashütte." The assembly and starting of the movement, the fine-tuning, the assembly of the dial, the installation of the hands and the encasement of the movement must all have taken place in Glashütte.
The special nature of mechanical Glashütte watches is also reflected in their technical and optical features:
Three-quarter plate
The three-quarter plate spans the mainspring barrel and the movement up to the pallet wheel in one piece, thus ensuring exceptional stability. Only the balance and the pallet are outside the plate.
Glashütte stopwork
The Glashütte stopwork is also typical. In the winding mechanism of a Glashütte watch, the ratchet is supported by a long, curved and solidly built-in jumper spring. This, too, serves to ensure stability.
Glashütte pallet escapement
The escapement parts are not arranged like a roof, but in a straight line. The angle necessary to engage the gear wheel is achieved by making one escapement arm shorter and by tapering the pins that are firmly embedded in the arms.
Blued screws
Also worth mentioning are the blued screws and hands as well, which achieve their cornflower blue color by heating the steel to 290 degrees Celsius.
Glashütte Sunburst and other decorative techniques
Numerous decorative techniques are used in Glashütte watchmaking. Typical is the Glashütte sunburst on ratchet or crown wheel which radiates outward from the center so that when the watch is tilted, the face appears to rotate due to the change in the light's angle of incidence. Glashütte ribbing or perlage are popular finishing techniques for slightly larger surfaces. And there are also the often floral or other engravings on the balance cock itself. The elaborate decoration was and continues to be a luxurious expression of the pure joy of construction. It also attests to the longevity of Glashütte movements, in which every single component can be replaced or repaired. It's definitely worth the effort.
Precision
Even before commissioning their own observatory in 1910, the Glashütte watchmakers had their own time signal, which was sent to them via Dresden every Saturday at one minute after eight in the morning from 1880 onward, and by which they aligned their pendulum clocks. The profession of regulator was also enormously important in Glashütte, not only for the construction of chronometers but also for precision pocket watches and later wristwatches. The fine-tuning of a watch takes place at different temperatures and in different positions. NOMOS Glashütte watches are regulated in six positions and achieve an accuracy of only a few seconds' deviation per day.
Are Glashütte watches Bauhaus watches?
The Bauhaus school, whose teachings united art and craftsmanship, did not produce any watch models of its own during its existence (1919–1933). In this respect, there are no true "Bauhaus watches." Nevertheless, later watch designs by former Bauhaus students do exist, such as those by Max Bill from Switzerland for the German company Junghans. Overall, the functional design language of the Werkbund movement, from which Bauhaus originated, was also influential in the design of dials and watch models in the first half of the 20th century. A very specific dial from the Pforzheim company Weber & Baral, which was also sold to the Glashütte company A. Lange and others in 1937, is also an expression of this influence and became the inspiration for the first NOMOS watch 53 years later.
In 1990, when the founder of NOMOS Glashütte, Roland Schwertner, was conducting research for an initial watch model together with the graphic designer Susanne Günther, he discovered the Glashütte variant of the 1937 Weber & Baral dial in historical publications. Susanne Günther reworked the typography and proportions of the original, and in 1992 the first NOMOS model, Tangente, was launched on the market: slim, functional and focused on the essentials—very much in the spirit of Bauhaus as well as Deutscher Werkbund, which NOMOS Glashütte joined in the same year. To this day, the latter questions the relationship between material, function, form, industrial production and social responsibility. NOMOS Glashütte is the only watch manufacturer to be a member of Deutscher Werkbund.
Value of Glashütte watches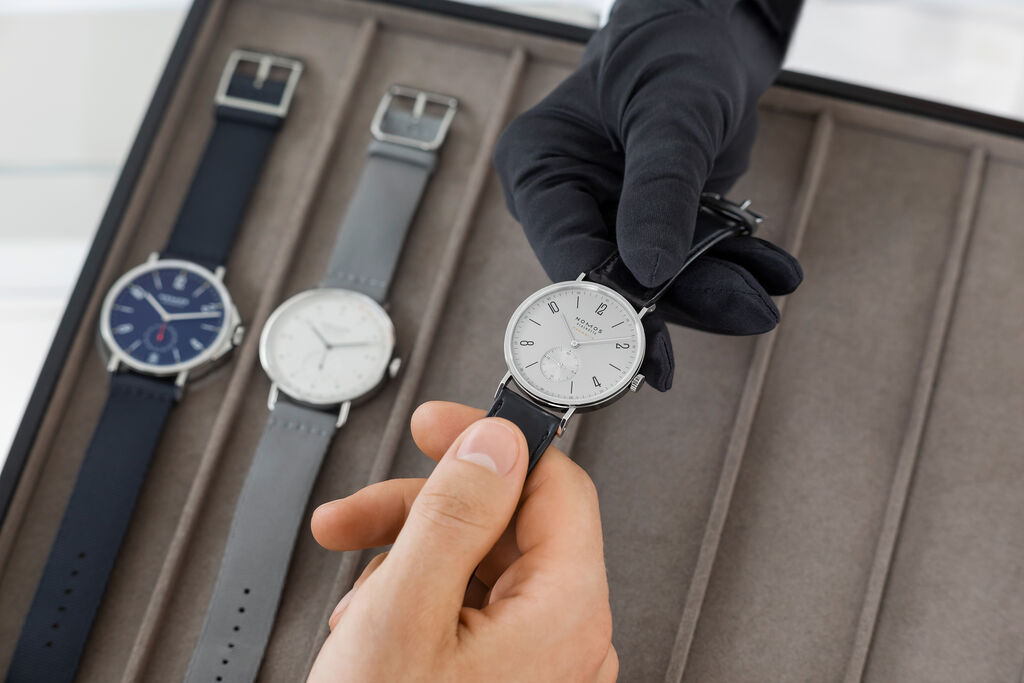 Are Glashütte watches good watches?
Yes, absolutely. They are mechanical watches that are valued worldwide for their high-quality materials, innovative original calibers, meticulous design and traditional manufacturing methods. It is not without reason that the use of the place of origin "Glashütte" is protected by law and requires at least 50 percent of value creation to have taken place on site.
Up to 95 percent of NOMOS Glashütte's mechanical watches are made in the company's own manufactory in Glashütte, and have won 170 awards since 2000. Among others, they have received the Grand Prix d'Horlogerie de Genève, seven Good Design Awards presented by the Chicago Athenaeum, Museum of Architecture and Design and seven "Watch of the Year" awards, which is chosen by the audience.
Why are Glashütte watches so expensive?
Are Glashütte watches expensive? Mechanical Glashütte watches come in all price ranges from under 2,000 euro to over 100,000 euro. Prices vary depending on the manufacturer, material, caliber and complication. NOMOS watches are available for as little as 1,300 euro. Most of the multiple award-winning watch models from NOMOS Glashütte with their high-precision manufacture calibers cost below 4,000 euro. And even the most precious and elaborate versions have a retail price of less than 16,000 euro. Hence, compared to other watches of comparable quality, such as Swiss watches, Glashütte watches are not expensive.
Do Glashütte watches increase in value?
The possibility that the value of a watch may increase in value depends on several circumstances. Mechanical watches made of high-quality materials, in which every single component can be repaired and which, with careful handling and regular maintenance, will last indefinitely, will at the very least not decrease in value. In fact, Glashütte watches often increase in value over time—not just through the price of gold, the benefits you get from them or the experiences you associate with them. Particularly with limited editions, which NOMOS regularly offers, an increase in financial value is very likely. In any case, handcrafted precision and beauty is certainly an investment worth making.
How accurate are Glashütte watches?
Glashütte watches are known for their precision. The accuracy of mechanical watches, and thus also of Glashütte watches, depends on the calibers, but also on factors such as temperature fluctuations, jolts and air pressure. Watches from NOMOS Glashütte achieve an accuracy of only a few seconds deviation per day. Learn more about the accuracy of mechanical Glashütte watches here.