Winter is finally over—and now it's spring, it's time to get moving again. At NOMOS too. The new sporty releases from NOMOS are ready when you are. We first introduced these new watches to the public in Basel. So what exactly do we have for you?
Until now, NOMOS Glashütte was considered by many to be a watch brand for more intellectual types. Our brand-new watches—three large and robust models with bracelets—are designed for those with an active lifestyle. We do have to admit it took us a while. After all, the requests have been coming for years: When will NOMOS Glashütte finally release a watch with a bracelet? But expectations were high, and we wanted to meet them.
This year we are presenting two new bracelets at once—the more slender version was introduced with Tangente für Ärzte ohne Grenzen and Campus neomatik. And now, brand new at Baselworld, we also have a robust sport bracelet to accompany Tangente and Club Sport. Now that's something to celebrate!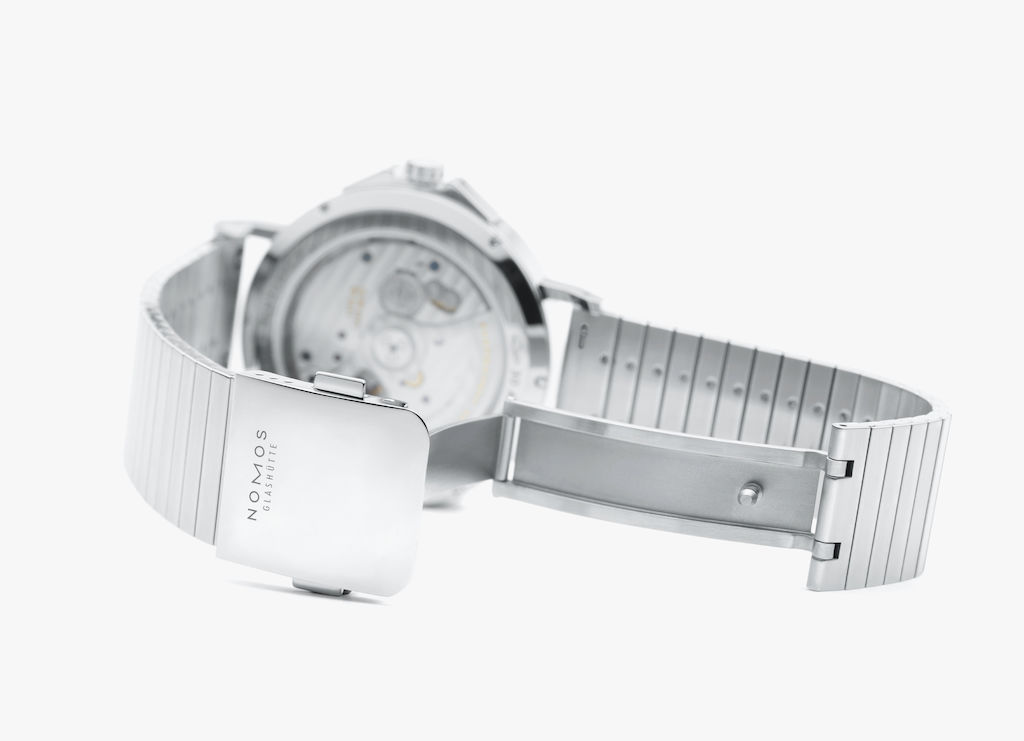 Sometimes we feel bad about how little attention we give it—but not today: it's the clasp! Visible here are the finely screwed individual parts of the metal bracelet, designed by NOMOS in Glashütte. It consists of 145 parts, made by hand.
Tangente Sport (which comes in two dial versions, namely white silver-plated and marine black) and Club Sport (with a black dial) are powered by the new neomatik date caliber (DUW 6101). All three are large, very robust, water-resistant to 1000 ft (30 atm)—and equipped with the NOMOS sport bracelet. Handmade from 145 individual parts, this new bracelet is extremely comfortable on the wrist—and, it goes without saying, looks great as well.
These are, in other words, the perfect timepieces for sport—and everything else life brings. When summer finally arrives, with its sunshine and humidity, these new Sport watches and their robust bracelet will take it all in their stride.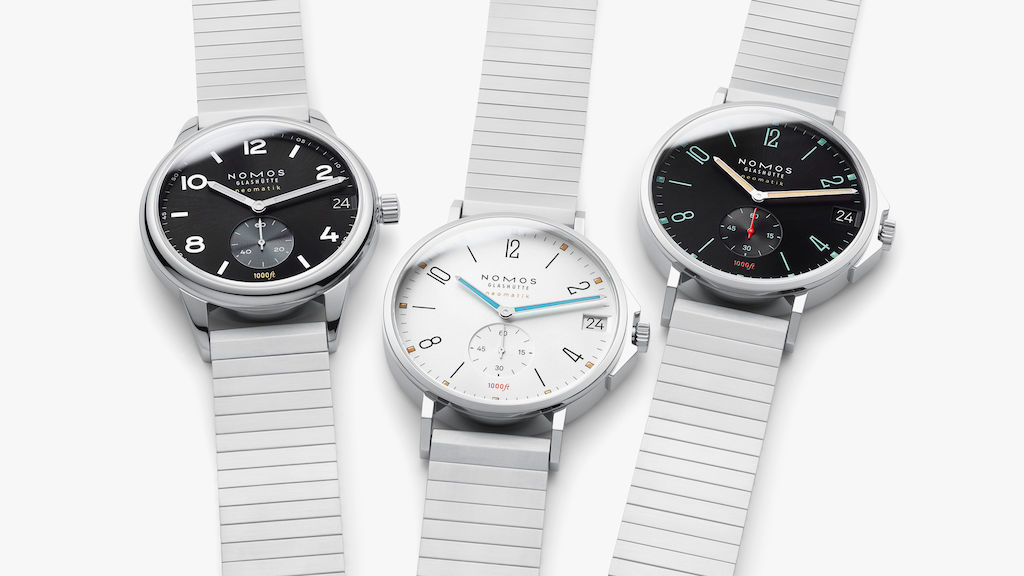 Sport! And this time it's game on for real. You could say this is the most beautiful triathlon you can complete, from left to right: Club Sport neomatik 42 date black, Tangente sport neomatik 42 date, Tangente Sport neomatik 42 date marine black.
PUBLICATION DATE: March 2019
TEXT: NOMOS Glashütte
IMAGES: 1-3. NOMOS Glashütte/Holger Wens