As an accomplished industrial designer, Simon Husslein has worked on a range of products, furniture designs, installations, and interior design projects—and has kept coming back to watches: As a young designer, alongside his mentor Hannes Wettstein, he created the NOMOS model Zürich. Most recently, as creative director of the Hannes Wettstein studio he developed the Minimatik model. In 2015, Simon Husslein founded his own studio. Here, he lets us in on what inspires him.
Do you have any artistic role models?
Simon Husslein: Hannes Wettstein influenced me a lot. I worked with him closely for years. I am still fascinated by how his drafts have an overarching logic, are full of emotion—and never boring. His desire for archetypal solutions has stayed with me. Ron Arad, who led my master's program at the Royal College of Art in London, also left a lasting impression on me. He has an ability to identify and express what is really important. Creative people whose work I admire include Donald Judd with his minimalist furniture designs; Olafur Eliasson, who conjures amazing creations; Andy Goldsworthy, who creates incredibly strong outdoor sculptures; and Sasha Waltz, who is an expert in knowing how to combine movement and space.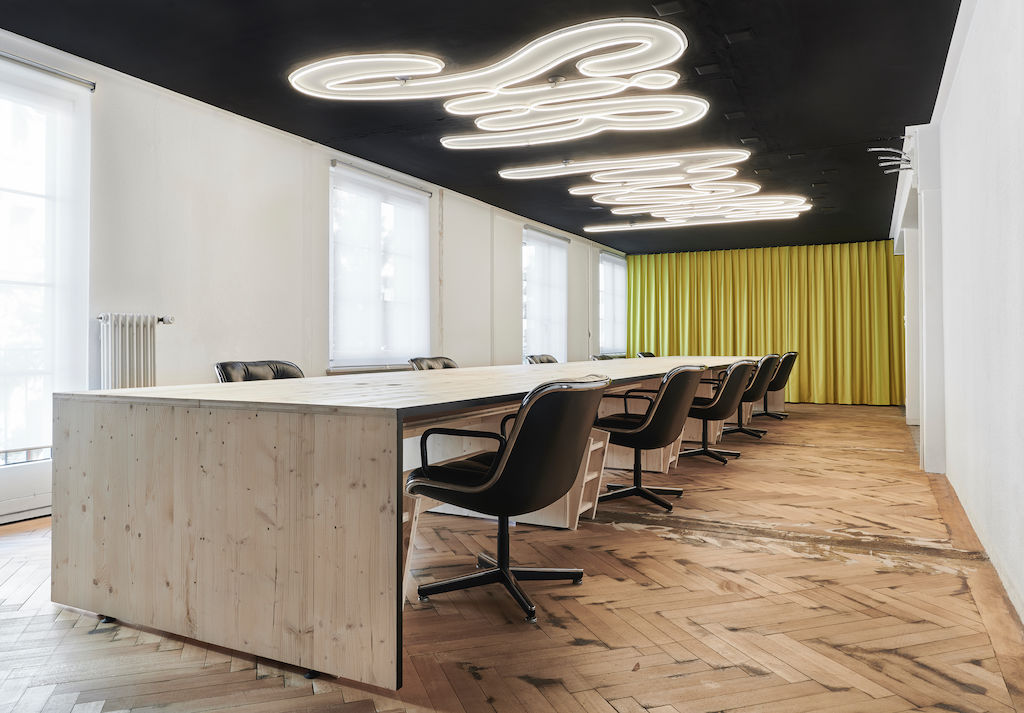 Which current projects are you particularly proud of?
S. H.: We have just finished converting an office for an advertising agency, and the mood of the new rooms is just right. At the center is a nine-meter-long desk, with a great lamp above it that we created: a 60-meter-long strip of LEDs spelling out the name of the agency. Many workplaces are lit too brightly with direct light, whereas our installation illuminates the ceiling more gently.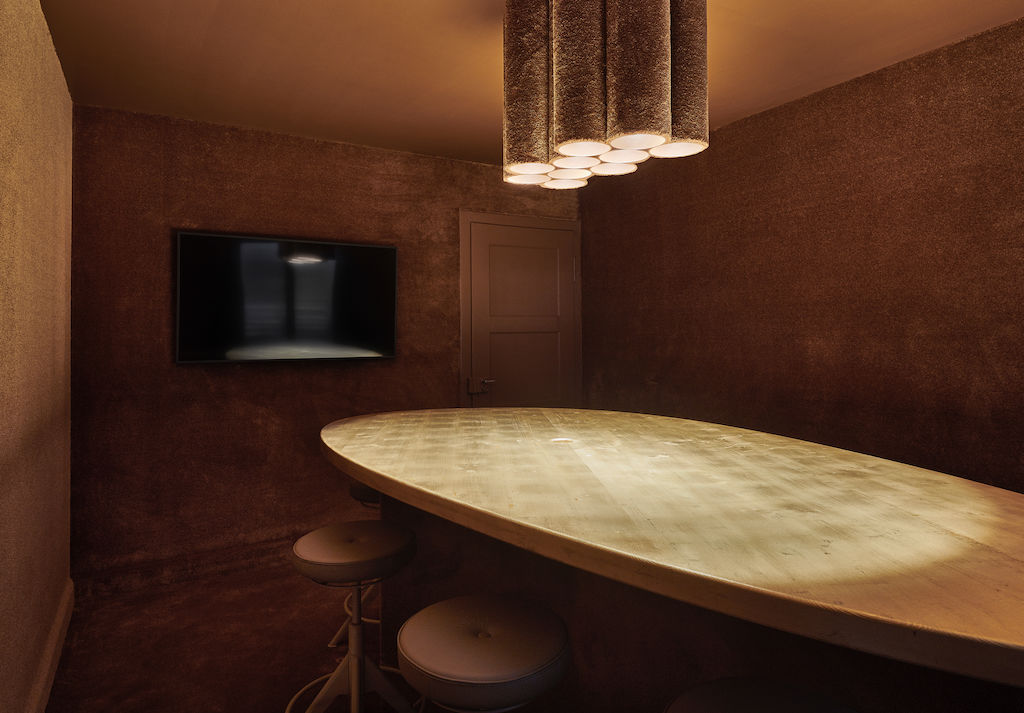 S. H.: There are two meeting rooms, one of them plain brown with carpet up to the ceiling, creating a unique atmosphere and acoustics. The large table in the center of the room has a wooden surface covered with gold leaf using traditional methods. After we sanded the table down slightly at the end, it looked like we had taken it from an old Russian Orthodox church.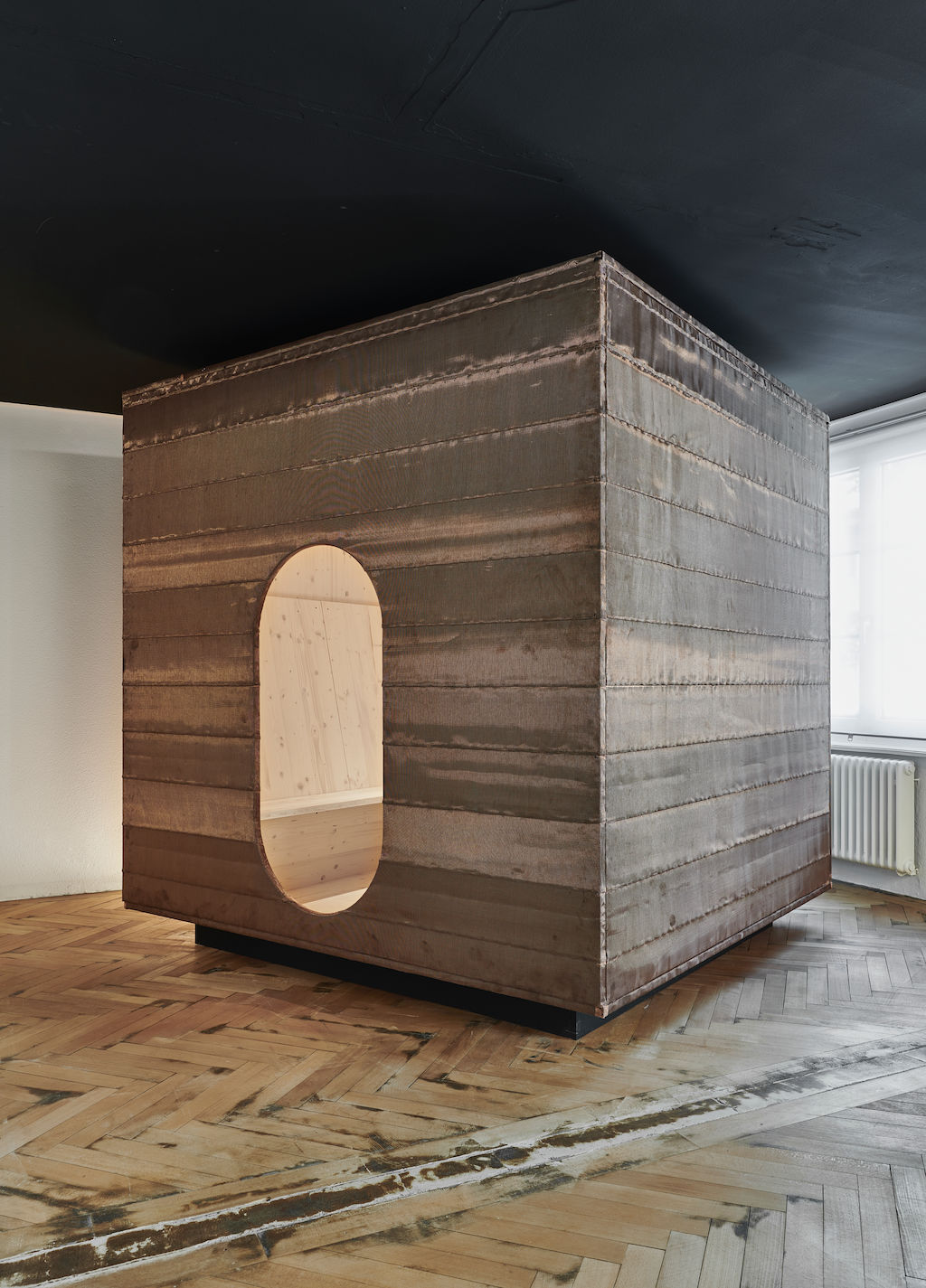 S. H.: We built the second meeting room as a wooden cube and completely covered it with tight copper mesh. It works like a metal capsule that hardly any phone or WiFi reception can reach. SiR MaRY has just been awarded the Digital Agency of the Year award in Switzerland—and an analog room that invites you to think, speak, and write without any distraction fits in quite well with that.
Where do you collect new ideas?
S. H.: I analyze a lot of what I encounter in everyday life and bring it to my ongoing projects. Working as a visiting professor at HEAD (the Geneva School of Art and Design) is also very inspiring. I have just finished directing a workshop in Santiago with students from Switzerland and Chile. A great concoction of different views and approaches.
When does passion become work?
S. H.: I know I am lucky that I can earn my living by designing objects, spaces, and experiences. But the word passion also has to do with suffering. To tackle something in the best way you can requires a deep breath—and lots and lots of work.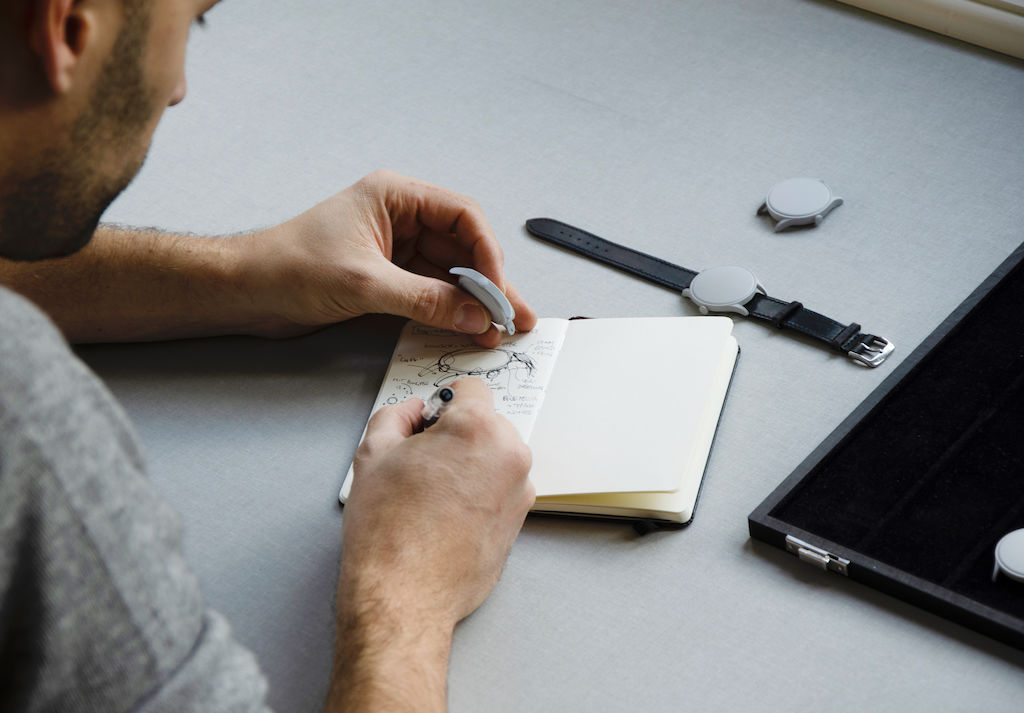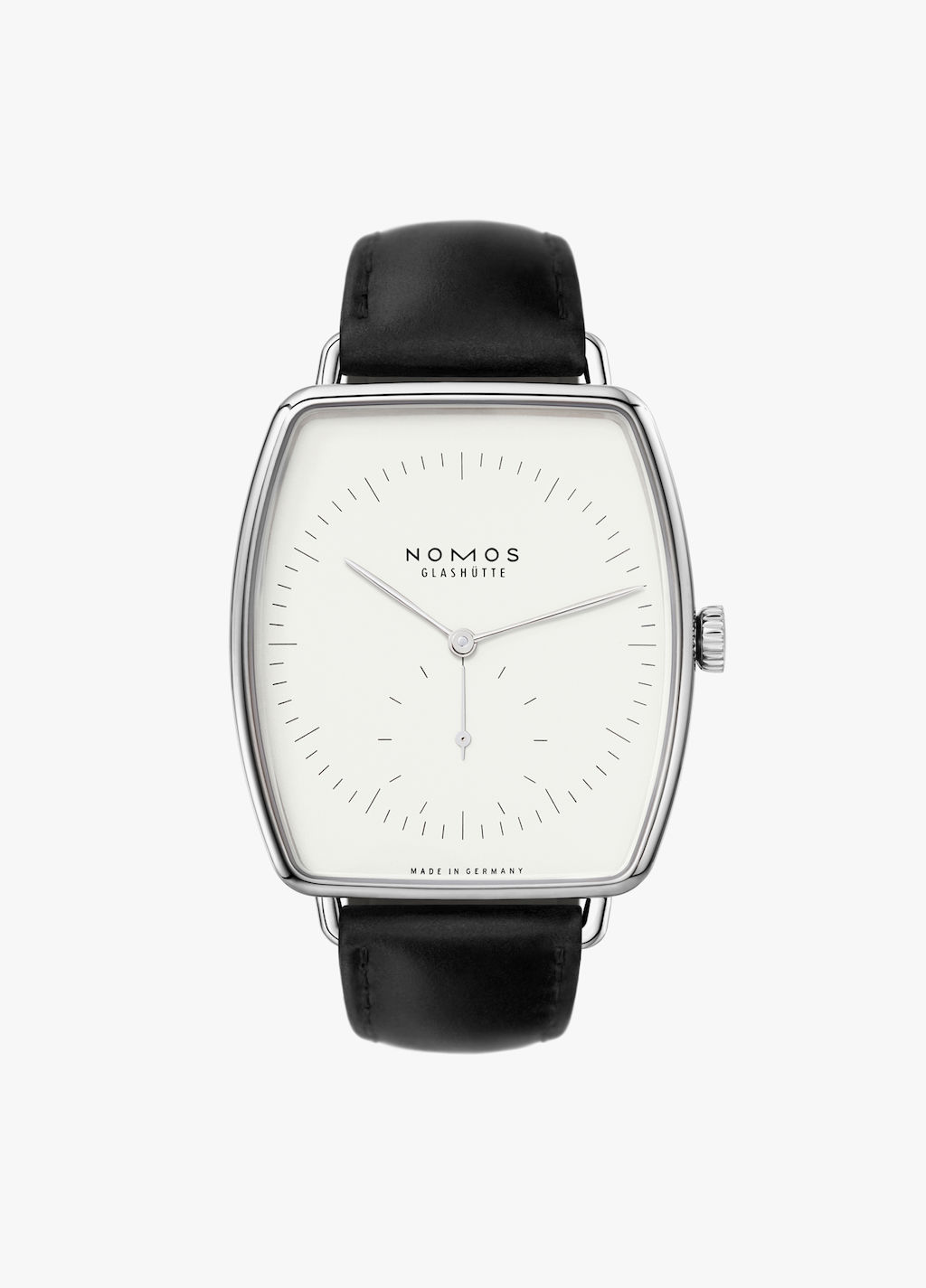 Which of your products is your favorite?
S. H.: I generally prefer to look forward rather than backward. The same applies when it comes to the watches for NOMOS Glashütte. The Zürich model, which was created while Hannes Wettstein was still alive, was the first NOMOS watch I worked on—and so it is something very special for me. The case designs of the gold watches Lambda and Lux came about almost at the same time: Lambda fits perfectly on the wrist and you can feel the value of the movement and the case material, that really gets under your skin—I love wearing it. For a watch that incorporates such a traditional Tonneau-shaped movement, Lux is totally fresh and cheerful. And the design of Minimatik is just perfect for me. Actually, that's meant to be impossible because you can supposedly always improve something—but in this case, I really wouldn't know what.
What do you like about working for a brand such as NOMOS Glashütte, rather than independently?
S. H.: I originally started in industrial design, which I studied in Darmstadt until 2000. The school was run in the tradition of Ulm, Bauhaus, and the Deutscher Werkbund. Creating products in series makes no sense whatsoever without a manufacturer or a brand. That's why this form of cooperation has always been a matter of course for me. I don't want to keep my thoughts and ideas behind closed doors. What interests me is the exchange with such companies and the relevance that a product can earn through a strong brand.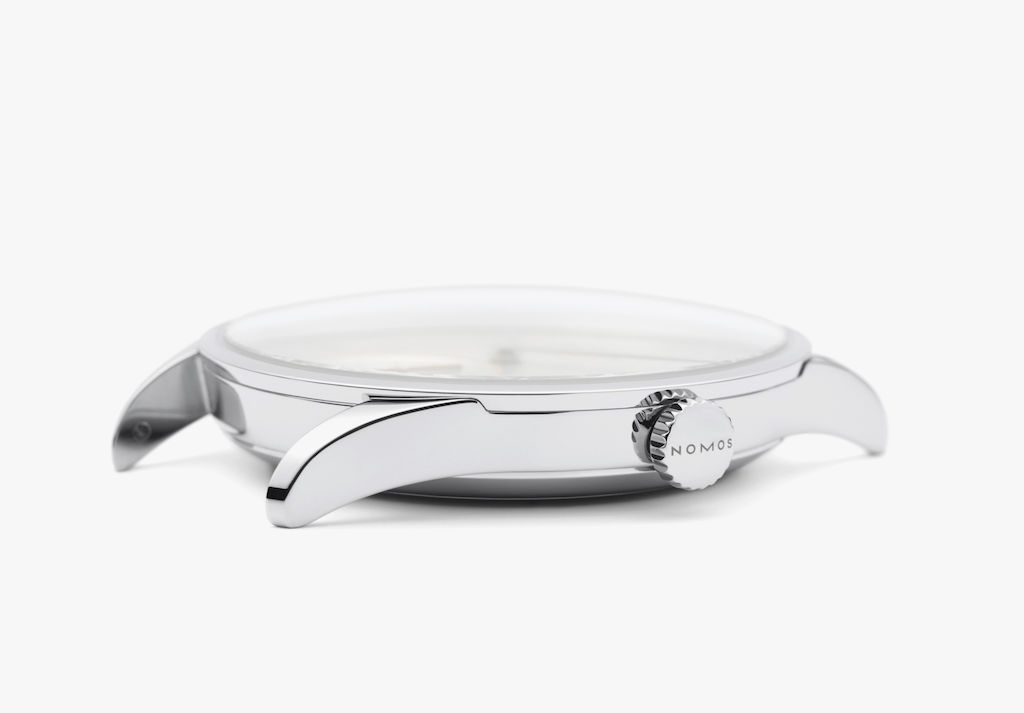 What are you most interested in working with?
S. H.: Mostly with watches, furniture, and exciting spaces. And I like to tinker with the details as soon as the big picture is clear. Whether that's formally integrating the crown of a wristwatch, connecting two wooden parts of a chair, or perfecting the first impression when entering a room. For many details, it pays to keep tweaking until they are perfect.
What's your favorite color of 2019?
S. H.: Right now? RAL 8024.                                                                                                                                                       
How would you describe your apartment?
S. H.: Airy, natural, bright, and child friendly. My partner is a fashion designer, so things have to fit in before they can move in. For example, the LMC mobile by Jordi Canudas in our nursery. It casts an enchanting spell on the whole room when the sun shines through the window.
If you had one wish, what would it be?
S. H.: For myself, I would wish for clients who have a clear opinion, and are tolerant and respectful. The odd generous one wouldn't be too bad either, I guess. The best results can be achieved together with people who have high standards and are willing to go the extra mile. And more generally, I would wish for a world where well-designed things are appreciated even more. If we consume less and instead keep well-made products for a long time, that would be sustainability in the best sense of the word.
PUBLICATION DATE: September 2019
TEXT: NOMOS Glashütte
IMAGES: 1. Lozza, 2.–4. SiR MaRY/Simon Husslein, 5. NOMOS Glashütte/Studio Wettstein, 6.–8. NOMOS Glashütte/Holger Wens