Heike Ahrendt, you lead product management at NOMOS Glashütte. No one knows the answer better than you: When will we finally see a new watch from your company? Now, after several months living through Corona, this question is for many people more pressing than ever.
Heike Ahrendt: We've just had the Symphony series of Tetra watches, the Ahoi for Doctors Without Borders Germany, and our limited-edition Ludwigs celebrating 175 years of watchmaking in Glashütte—all of which are quite new. But of course, after the cancelation of the spring trade fairs and with many people around the world looking forward to something other than new watches, it's normal that 2020 will be a little different, slower in some respects.
Besides, at NOMOS Glashütte we are rather reticent with new releases—which is just as well since we make classic timepieces! Most of our watch models have been around for a long time, and we tend to create variations of these. We nevertheless continue to grow. As much as we stand behind our 175 years of watchmaking tradition: We never want to stand still!
And since we are a watchmaking company from A to Z, we don't just produce our own movements but also develop them too. We don't source movements from third parties, but instead we build all our calibers ourselves—which means we can determine and influence their quality and function. That's very important to us.
But NOMOS isn't in the caliber business, so let's get back to watches.
H.A.: Of course, but you can't make a good watch without a good movement! As far as new models are concerned, it's not unusual for us to reflect the wishes of our customers in our new releases: That was the case with our latest Tangente Sport and Club Sport models, with which we finally met customer demand for NOMOS watches with bracelets. We'd heard that request for years and years, and now we have the perfect answer: NOMOS watches that are masculine, sporty, water and heat resistant—they're pretty cool.
And then there's another example that comes our way all the time: the question "which watch goes with jewelry?" We came up with the duo series for this—petite watches with only two hands, no sub-seconds dial. Elegant and simple Bauhaus-inspired watches for women that subtly combine steel and gold, which I find works wonderfully. We also introduced new dial colors into the collection with the Tetra Symphony series—and I am particularly pleased with these beautiful women's watches. Fresh colors mean that you see the watch in a new light over and over again, and classic models can also benefit from a little variety in the form of a color update every now and then. For me, there's no contradiction in that.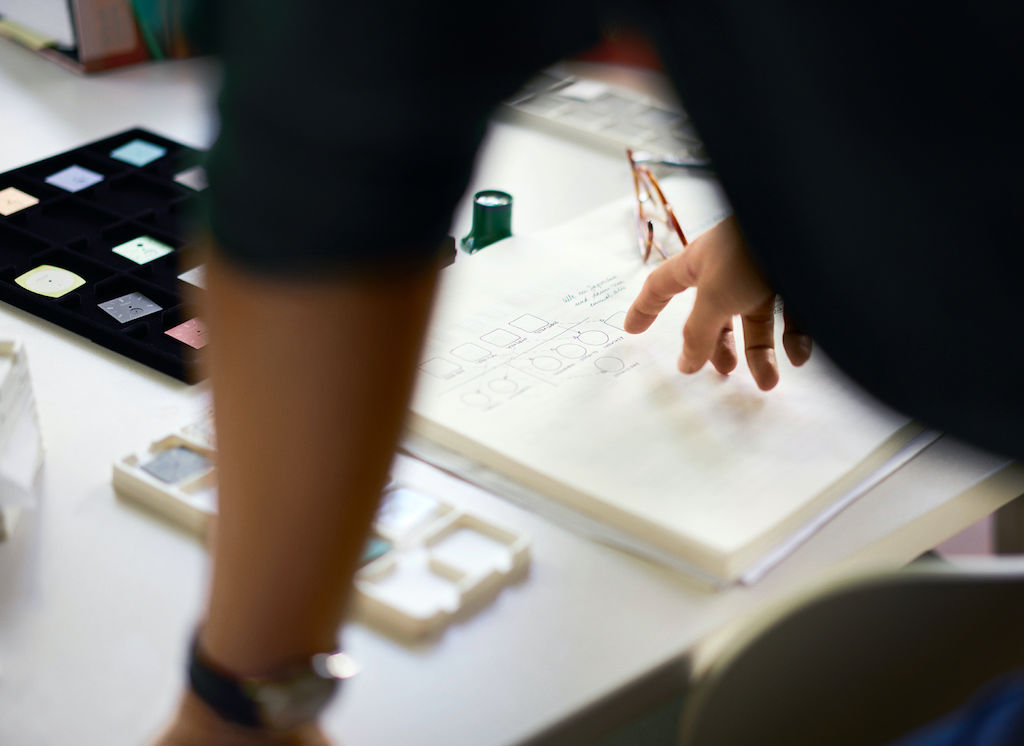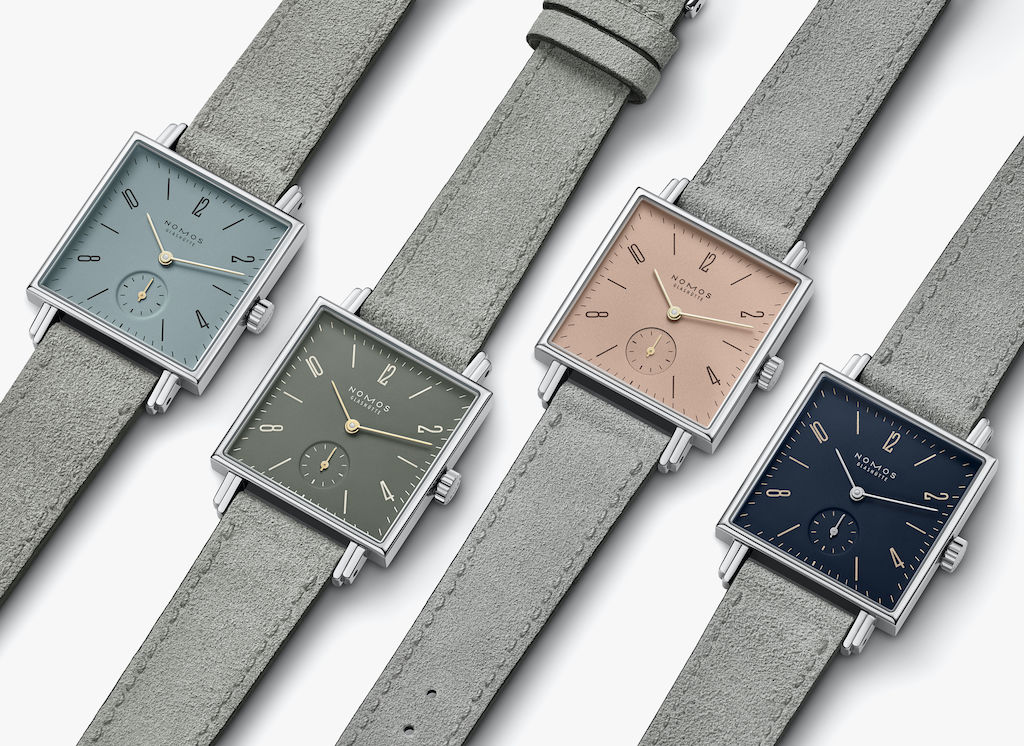 For Beethoven's anniversary year, the NOMOS designers came up with the Tetra Symphony series: Immortal Beloved, Ode to Joy, Divine Spark, and Fidelio (below, from left to right).
Are the new watches for any particular special occasion?
H.A.: Yes, of course, even now during the Corona pandemic. This coming fall we are celebrating, as I mentioned, 175 years of Glashütte watchmaking—starting with three limited-edition versions of perhaps our most classic watch, Ludwig. Roman numerals, traditional leaf hands, enamel-white dial, case reminiscent of early pocket watches … two are equipped with NOMOS neomatik calibers, so automatic; one has a hand-wound caliber, and all three are each limited to just 175 timepieces. And they are regulated as a chronometer would be, which is quite special. There are more new releases to come, but I'll stop there.
And: There are other occasions for which we make watches, it's not just all about the 175th anniversary of Glashütte. Tangente Grundgesetz came out in honor of the German constitution, which turned 70 last year. That means a lot to us. Because only since the ratification of the German constitution in our east German town of Glashütte could we return here to work, to our own standards and with our own ambitions.
When you think about your work: what are you proud of in particular?
H.A.: I am especially proud, as we all are, of our groundbreaking neomatik calibers with the NOMOS swing system, our proprietary escapement. The first of these was finished in 2015, neomatik caliber DUW 3001, and the second came two years later, the automatic date caliber DUW 6101.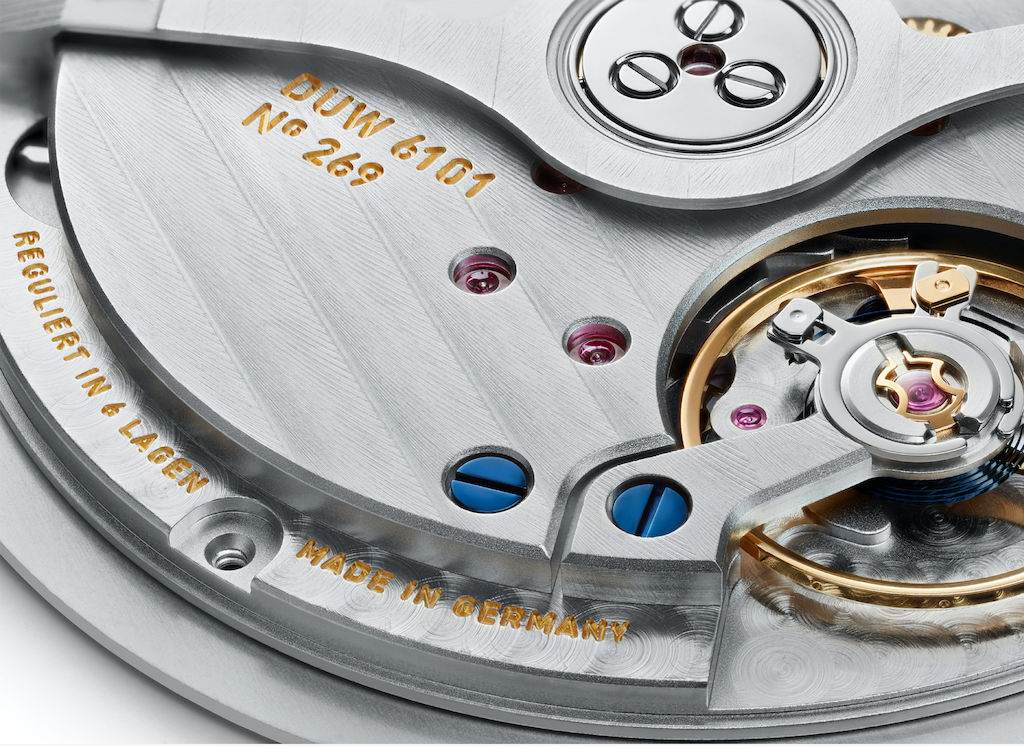 Automatic caliber DUW 6101 is only 3.6 millimeters in height and is powered by the NOMOS swing system—the development of this tiny component alone required many years.
H.A.: When you compare the very first automatic NOMOS caliber from ten years prior, which was called Epsilon, you see that the new neomatik calibers are much more slender. That's thanks to the immense progress made in the fields of technology and engineering. We've also conducted a lot of research ourselves: In our in-house development department and in cooperation with the Fraunhofer Society and the Dresden University of Technology. In particular for our proprietary escapement, which we call the NOMOS swing system. This "heart of a watch" enabled us as a watchmaking company to become completely technologically independent.
Today at NOMOS Glashütte we are able to produce calibers within very narrow tolerances. Their efficiency was increased, the negative impact caused by friction was reduced. Now here I am talking about calibers again ...
Yes, and you are still in charge of new watches. So: Out of everything, who or what is necessary before a new watch is ready?
H.A.: It often takes years and requires many people and departments before a new product can be worn on the customer's wrist. Between the idea and design there is the research and development department. Then we need technical drafters, technicians, prototypes and tool construction, purchasing, production, assembly, and then there is the accounting department, which has to calculate the whole operation. At the other end there is the marketing department with their fancy words and pretty pictures, as well as the sales team: It takes a great deal of effort and time for a watch to make it onto the wrist. But for me that's one of the best things about it all—that my department is like a spider in the center of a web, in touch with all the other teams.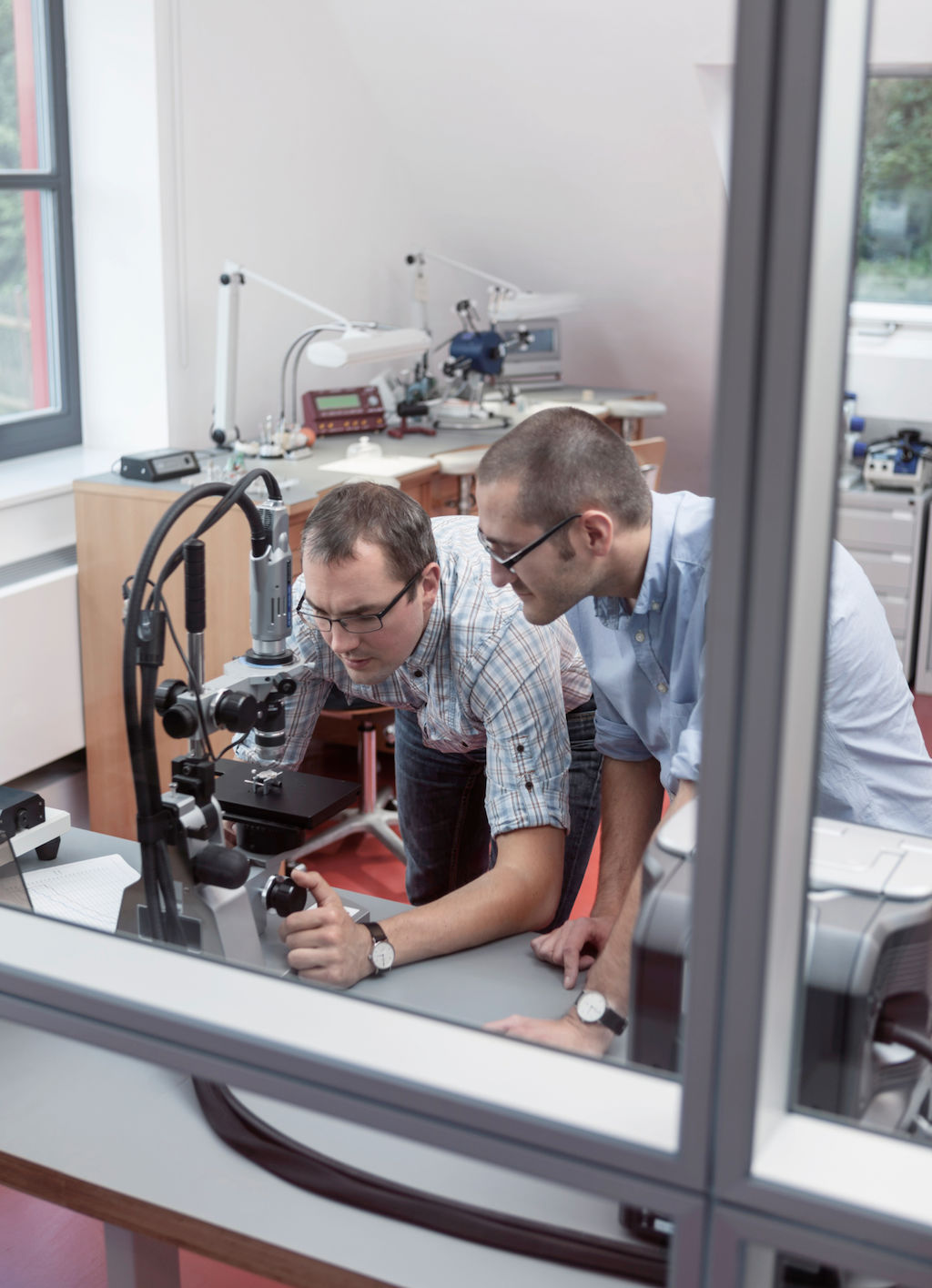 Always researching, developing, looking for the next breakthrough. Here at work: design engineers Lutz Reichel (left) and Theodor Prenzel.
Has there ever been an instance where nothing went to plan?
H.A.: Well: Corona has put a stop to everything, and not just for us. But for the most part we encounter the opposite problem, namely time pressure. Yet we always somehow make it on time, and as far as I can remember there have been no real mishaps. When we rolled out our gold watches Lambda and Lux, the cases were only finished one day before the start of the trade fair in Basel—that was quite tense. And I've been told that two days before the press conference for our watch Zürich world time, an interim injunction arrived: An unknown Swiss company had registered a design patent for depicting summer time with the letter S. We had to think on our feet.
When do you realize that you're in the right place?
H.A.: The most satisfying aspect for me is of course when clients purchase our watches and think highly of them. I am always happy when I hear that. These watches are a little like children. At one point we have to let them out into the world—and then we simply take pleasure in watching their progress from afar.
Can you give us a clue, an inkling, just tell us anything about what we can expect in the future?
H.A.: I can't give away any secrets. And as for how long Corona will stop us from returning to normality, I also can't say. But: We will continue to make watches of the highest quality. Piece for piece, by hand, with love—and with a little high tech, but only when it serves precision. For the most part we'll continue our work the same way it's always been for the last 175 years in our small but world-famous town of watch experts. And we'll continue to bring this tradition into the future: committed to the history, the handcraft, the responsibility that comes with being here, remaining open minded and forward-thinking in our actions.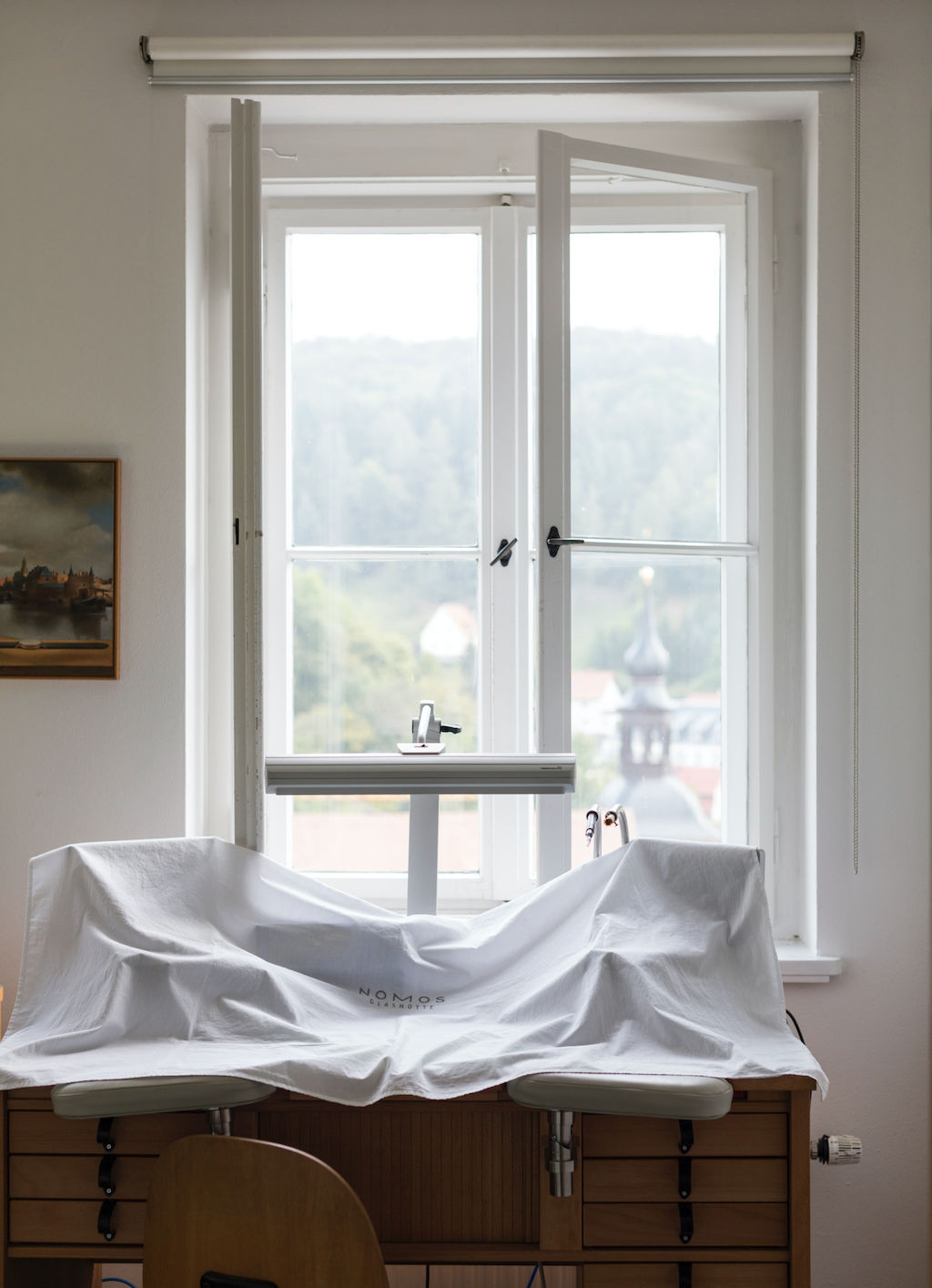 Which new watch is NOMOS Glashütte is working on? That's a secret kept hidden on this watchmaker's table in the company's workshops.
PUBLICATION: August 2020
TEXT: NOMOS Glashütte
IMAGES: NOMOS Glashütte