Why does this classic timepiece need an update?
A true classic doesn't need an update. But—if it's done well, it can take one. And, I think, gain something from it. In Tangente Update, the focus is on the new caliber within; and it's this caliber that has made the design update on the dial possible in the first place.
So what is this update of Tangente about?
The core characteristic of a NOMOS watch for me—and what makes NOMOS special—is that design and mechanics go hand in hand. They are interconnected and have to be considered together. The new circular date display shows what the caliber behind the dial can do. And it underlines the character of Tangente with its red markings.
From a technical point of view, this watch is a masterpiece. Was it challenging from a design aspect?
To work on Tangente is something special, and rather tricky; at the end of the day, it's not just any watch. What can you even change about it? And how? It was a little like a tightrope walk—between a desire to revise aspects of it, and a great deal of reverence too. It really was a challenge. The idea of placing the date right around the dial is already a couple of years old, as we'd had it in mind for a while. We just hadn't managed to do it. Of course this new, larger NOMOS caliber was ideal for this idea: The date ring sits so far out around the side of the dial that I could almost leave the original Tangente design untouched, and the date can be placed around Tangente's dial as an addition. So the redesign of this classic timepiece remains true to its heritage; it has simply grown—both in its size and in its functionality. You could call it an update!
You sound pleased.
I am. First and foremost, I'm glad that the design engineers and watchmakers in Glashütte liked the draft design. That they felt I had understood what they had built.
Will you wear this watch yourself?
Unfortunately not. This timepiece has a really nice size at 40.5 millimeters in diameter. I think the proportions are great—but sadly, they're not for my slender wrist. In any case, it's not just about me. I look forward to the first time I spot someone wearing Tangente Update on the street. This new version of Tangente is perfect for everyday life, and many wrists.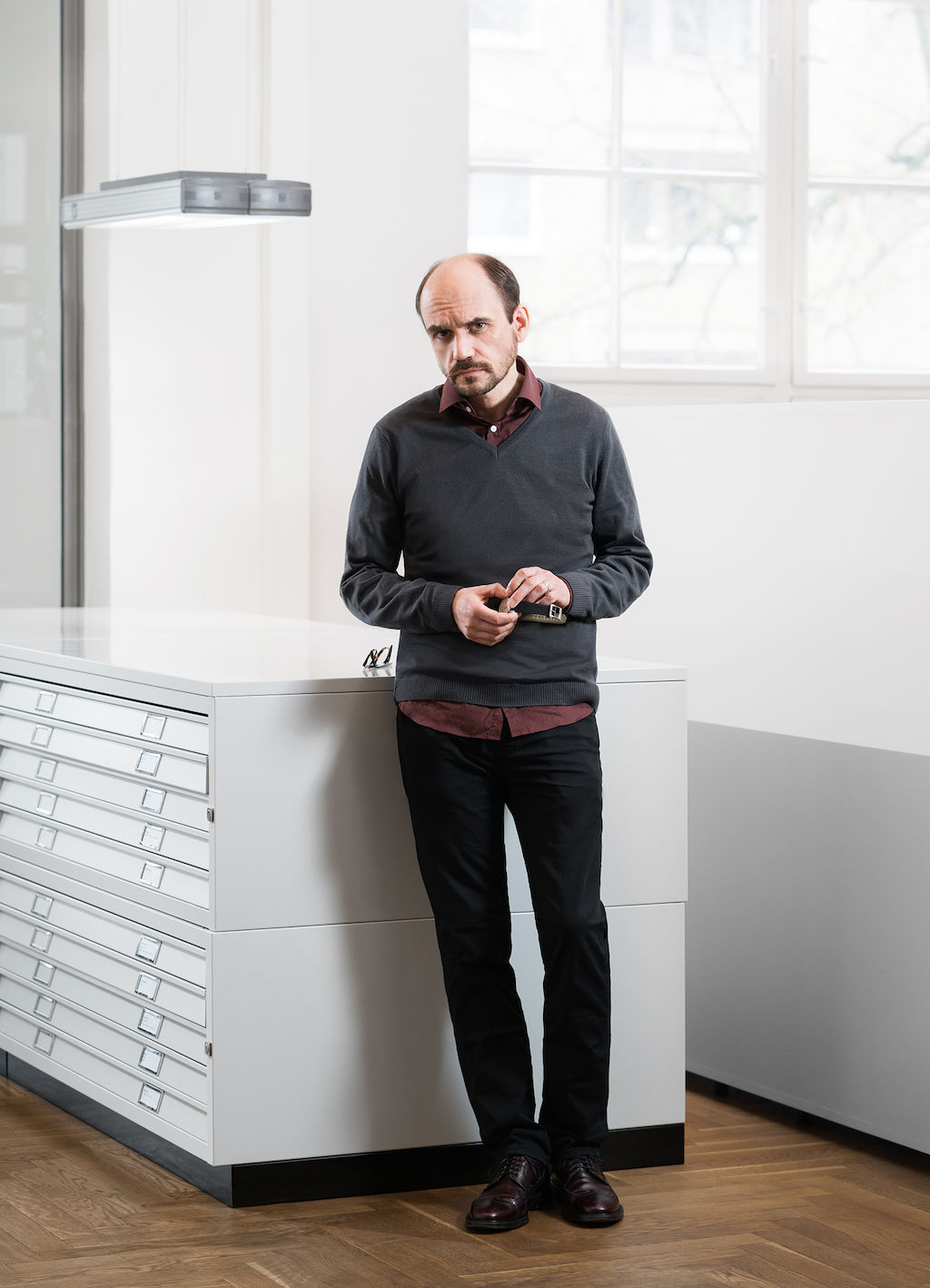 Michael Paul was born in 1974 in Braunschweig, Germany, and studied at the Burg Giebichenstein Art College in Halle. He also attended both Zurich University of the Arts and Berlin University of the Arts, where he was awarded the title of 'Meisterschüler' (master class student) for his outstanding work. The artist and graphic designer now lives in Berlin and has been working for NOMOS Glashütte for over a decade. In his time he has been responsible for the highly successful Super30 series, among other projects.