Werner Aisslinger is one of the most important designers working today. And now he has created a watch in collaboration with NOMOS Glashütte: Autobahn.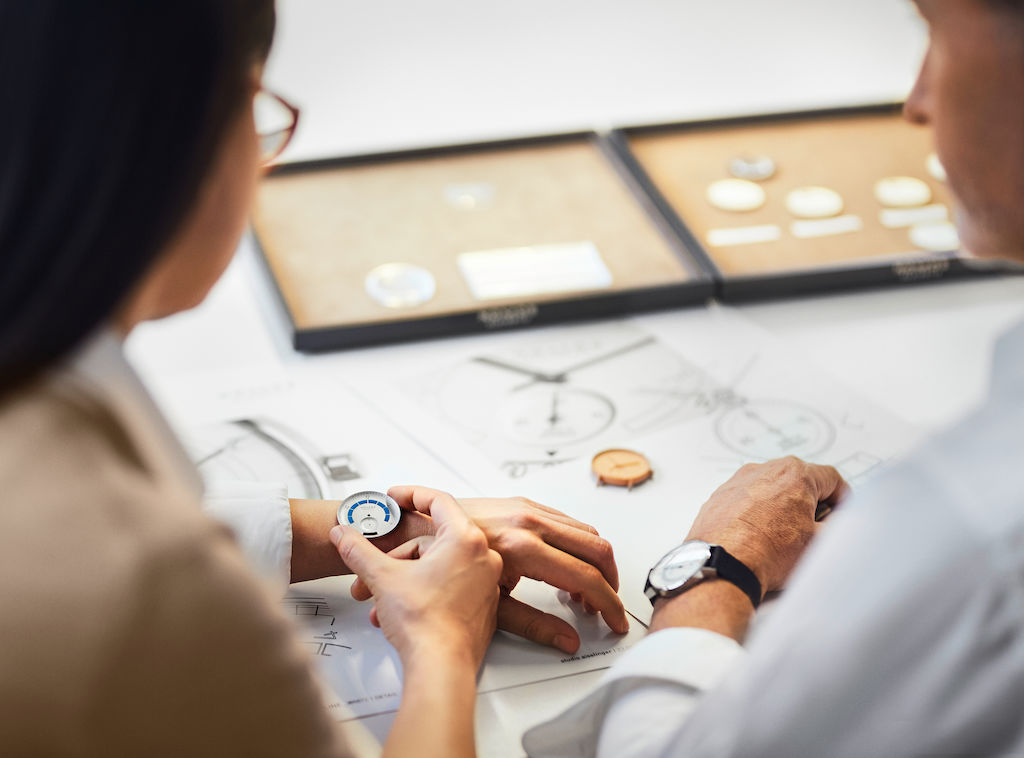 Autobahn is an entirely new NOMOS watch. The designer behind it says: "My goal was to create an archetype."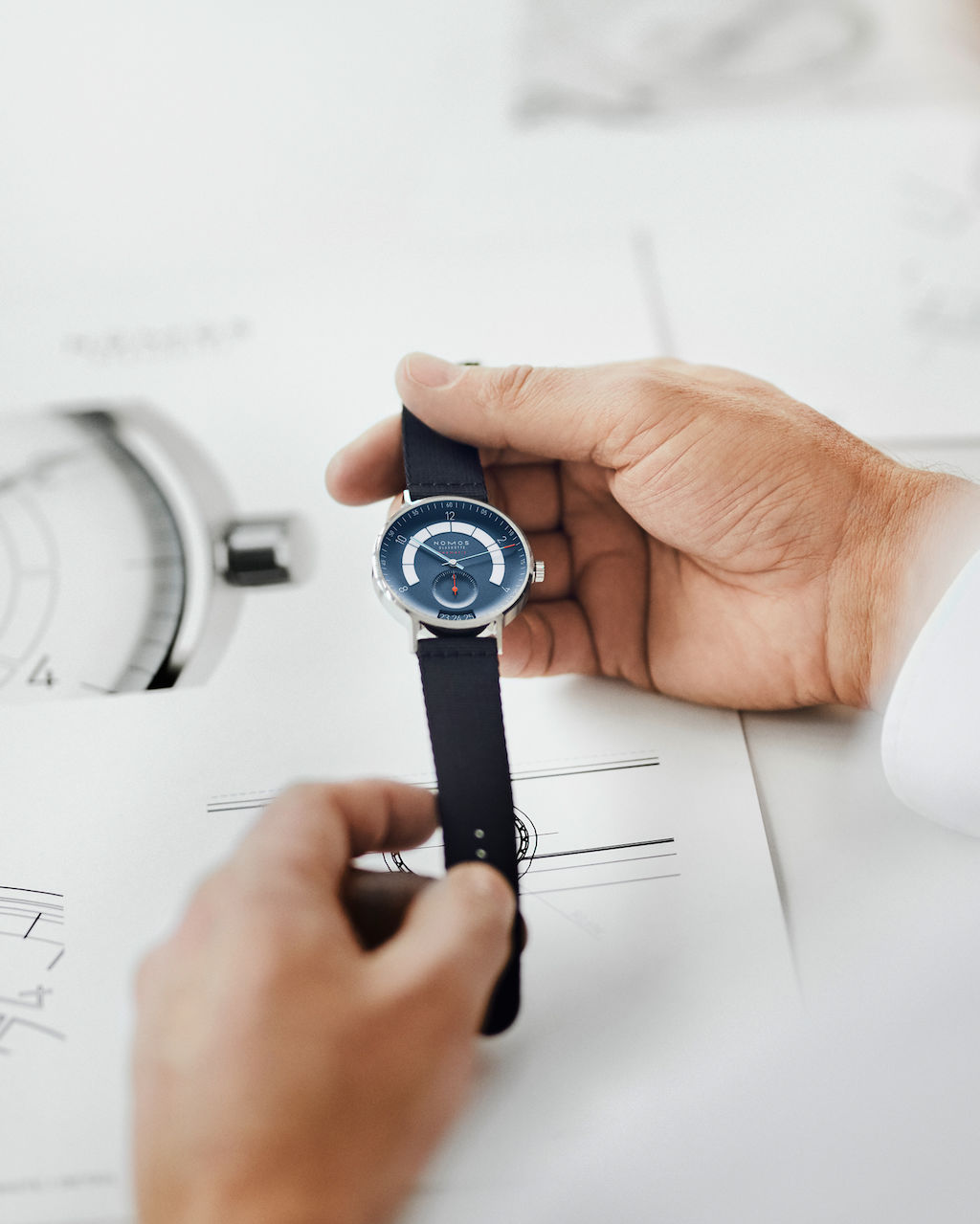 Distinct, decisive, clear: Autobahn appeals on many levels. It is watchmaking from Glashütte combined with perfectly new design.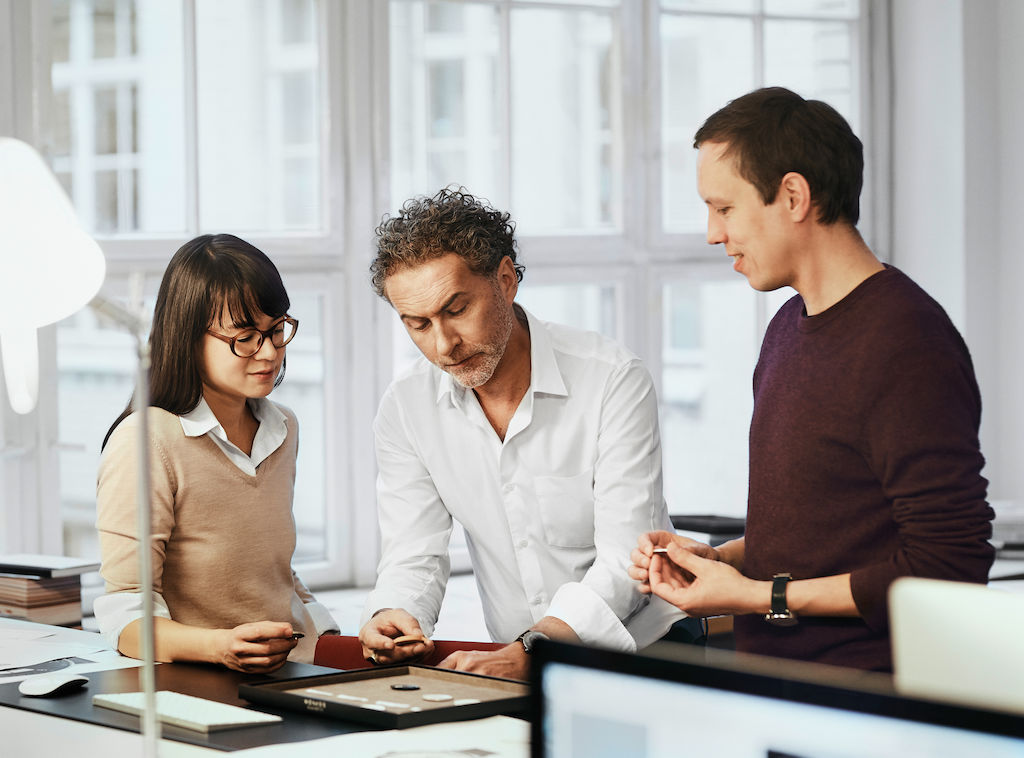 Werner Aisslinger and his creative partner Tina Bunyaprasit discuss the details of the new watch's case with NOMOS designer Thomas Höhnel (right).
» I love speed« Werner Aisslinger, Designer of the Autobahn model
Why is this watch called Autobahn?
It's dashing, sporty, a powerful machine—without being brash or loud. Autobahn reminds me of a vintage sports car. There are definitely more contemporary modes of transport, but old automobiles, their form and finishing, fascinate me. And I love speed!
Could you describe it?
The most striking aspect is perhaps the depth of the dial. Its edge is curved, like the outside lane of a racetrack—or the fender of a vintage race car. With a gentle swing, it flattens out into the watch face. And the sub-seconds dial repeats these curves. Of course, the typography, the luminious ring, and the elongated date window also play an important role. The last element is reminiscent of an odometer. But perhaps the most important characteristic is its outstanding production.
Autobahn, speedometers, racetracks: Is your watch designed with men in mind?
Plenty of women love driving—and I believe some of them will be interested in my watch as well. My creative partner Tina Bunyaprasit, who worked on the timepiece's design with me, will wear it on her wrist too. Still I have to admit that it may appeal more to men, since the case is rather large, and the watch is very striking.
Has the automotive industry ever asked you to design a vehicle?
Not yet. But now I have the watch model Autobahn. Which is almost better.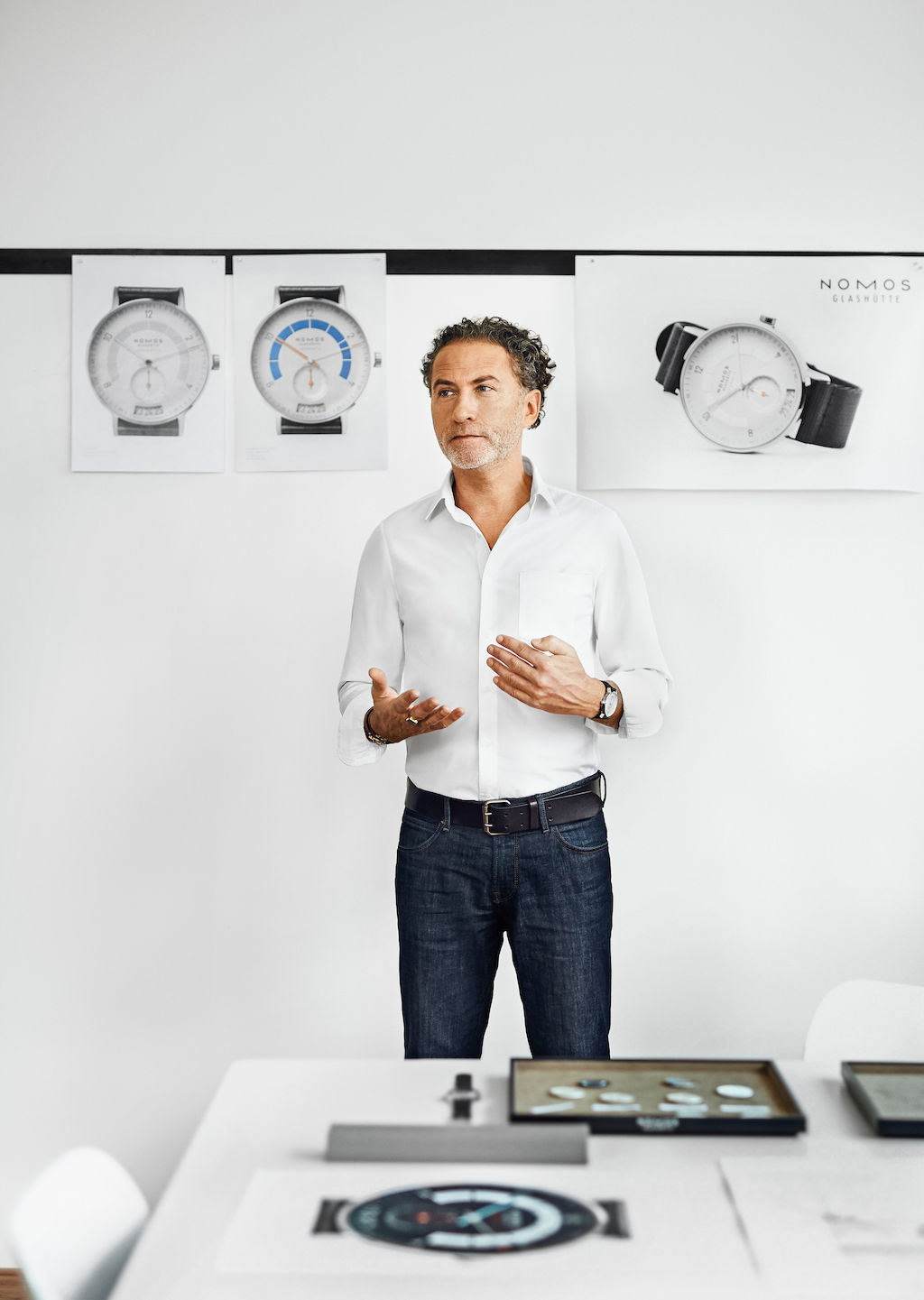 Even as a student at Berlin University of the Arts, Werner Aisslinger worked for Ron Arad and Jasper Morrison in London and Michele de Lucchi in Milan. In 1993 he founded studio aisslinger in Berlin, which has had a second office in Singapore since 2008. Aisslinger's Juli Chair was the first German chair since 1964 to be selected for the permanent collection of the MoMA in New York. His furniture designs are also on display in the Fonds national d'art contemporain in Paris, the Victoria & Albert Museum in London, and the Neue Sammlung in Munich. Aisslinger's nomadic architectural units, such as the Loftcube, are pioneering works for a new style of living. Aisslinger has received numerous design prizes, such as the Compasso d'Oro from Italy, the Designpreis Deutschland from Germany, and the Good Design Award from the Chicago Athenaeum. In 2014 he received the title of 'A&W Designer of the year'. Since then, Werner Aisslinger has been working for and with NOMOS Glashütte, alongside his creative partner Tina Bunyaprasit.