Behind everything we do and strive for in life are two things: the search for friendship, the desire for love. We dream of a world of constants, where we can be ourselves—and nothing else. Objects? They shouldn't play too big a role. And yet we find companions among objects whose loyalty and beauty far exceed that of many people. These are not the fashionable, not the inevitably expensive things—but those that endure through the ages.
It is widely known that many architects are fans of the NOMOS Tangente model. Because with their trained eye, people who can design, calculate, and plan may appreciate clarity, straight lines, and functionality even more than others.
Luckily there are many of these sorts of things in the world. The architecture center "aut. architektur und tirol" in Tirol, Austria, curated some of them for their exhibition "einfach alltäglich" ("simply the everyday") and interviewed many architects. Here we have quoted some of them along with their favorite objects, some of which are from famous designers, while others remain anonymous. All of these objects touch and enrich our everyday lives. Some only cost a few cents—but they are still worth our attention. Because even the little things, as some of these architects say, are "infinitely important."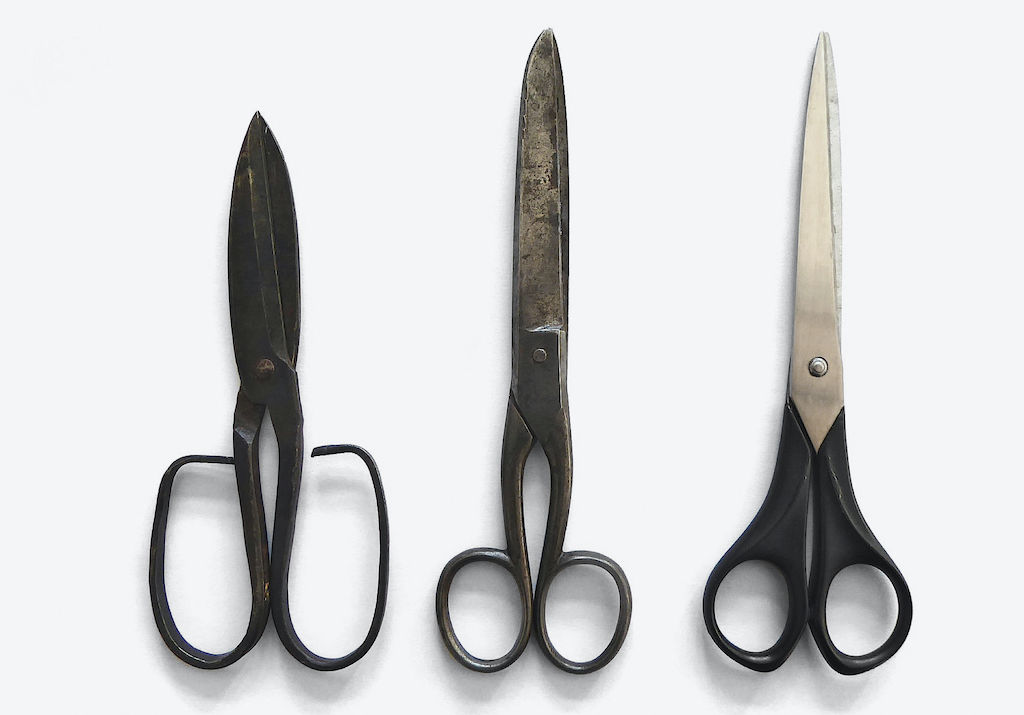 Cutting lines
Scissors forged by hand, from the household effects of my grandparents, probably made in the 19th century, unmatched in their ability to cut thick cardboard boxes etc., still in regular use.

Scissors from the 1950s, a familiar object from childhood used in my first sketches and craft projects (already a budding architect), a bit too long for home, soon transferred to the office for special circumstances.

Scissors acquired in 1991 in the USA, bought during my time teaching at the University of Illinois in Urbana-Champaign, have since become my go-to pair in the office, lost and subsequently found many times.
Ernst Beneder, b. 1958, architect, Vienna (Austria)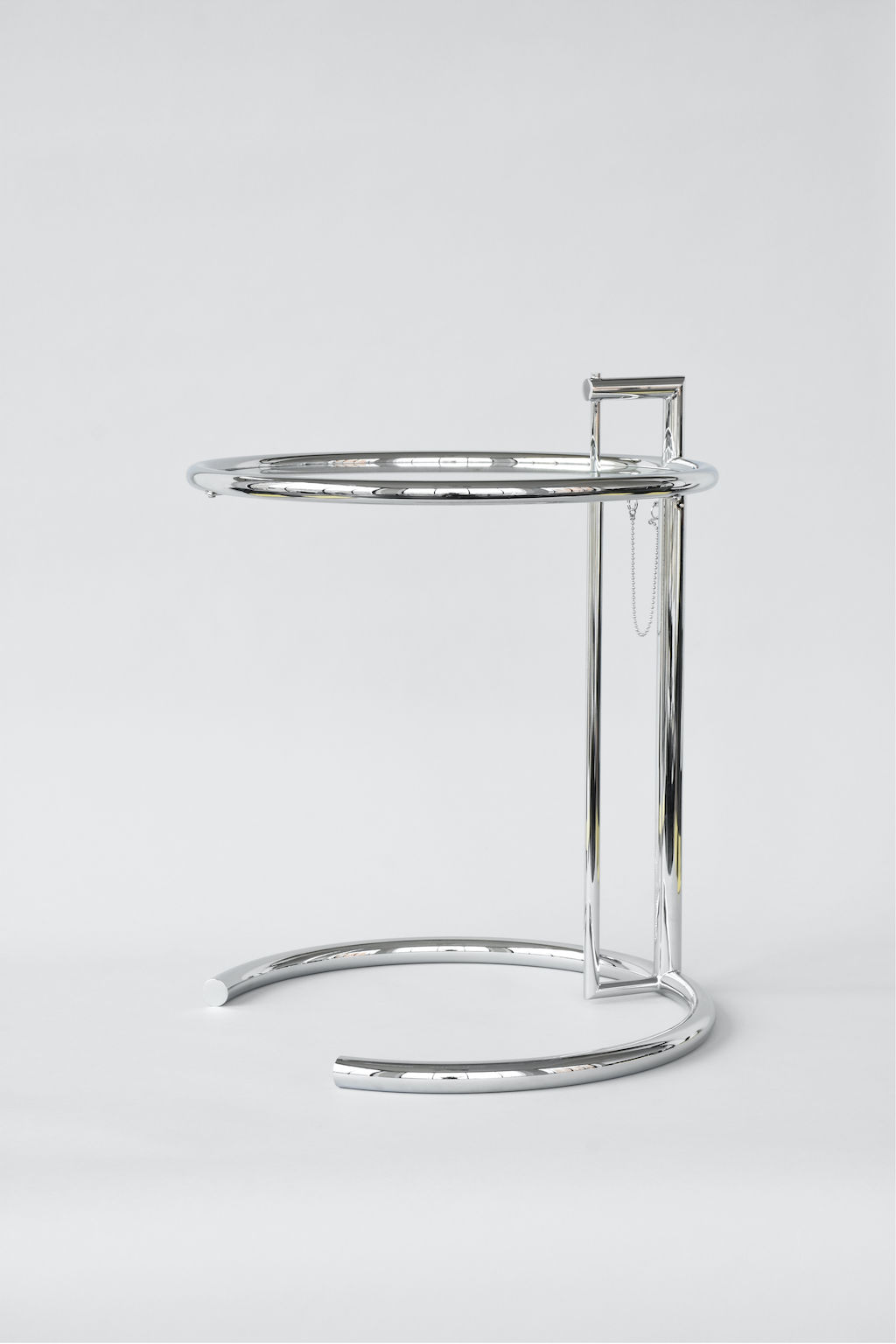 Eileen Gray: E 1027 Table
In my home, I have only one piece of Eileen Gray's work: her E 1027 table. This table epitomizes her work. Made of chrome and glass, it is circular; it has a handle, so that it is easy to move from one place to another ... It is adjustable ... it can be high ... or it can be low ... the circular base is not a completely closed circle, but open, so that it can be easily pushed in under couches, under chairs, under beds ... the glass table top means that you can easily put hot things on it ... and the transparency of the glass adds to our appreciation of the metal.
This table is thought about deeply ... it is accommodating ... it is designed with use in mind ... it is beautifully crafted ... it is a work of art. Two circles, held apart; one complete; one open; one filled with glass, one empty; a chain, a point of metal—a simple device that allows you to adjust it at will ... and that handle ... how many tables do you know that have a handle built in? Like in "Goldilocks and the Three Bears" ... the table is not too heavy; it is not too light; it is just right.
The handle is 22 mm thick and 105 mm long; the table is 510 mm in diameter with 22-mm thick metal edge. The 28-mm thick tubular base has a 315 mm gap. There are eight choices of heights, each 45 mm apart ... by adjusting a tiny metal bar on a chain, the table can be as low as 610 mm and as high as 1010 mm, which is a comfortable height to use while standing. Common sense with a unique personal taste. This is Eileen Gray.
In his biography of Eileen Gray, Peter Adam notes: "Bending and folding of elements created a mechanical ballet that became the hallmark of her design."
What Eileen Gray could not or would not say about her work is expressed in it. Eileen Gray wrote in one of her notebooks "A beautiful work speaks more truth than the artist."
Yvonne Farrell (Grafton Architects), b. 1951, architect, Dublin (Ireland)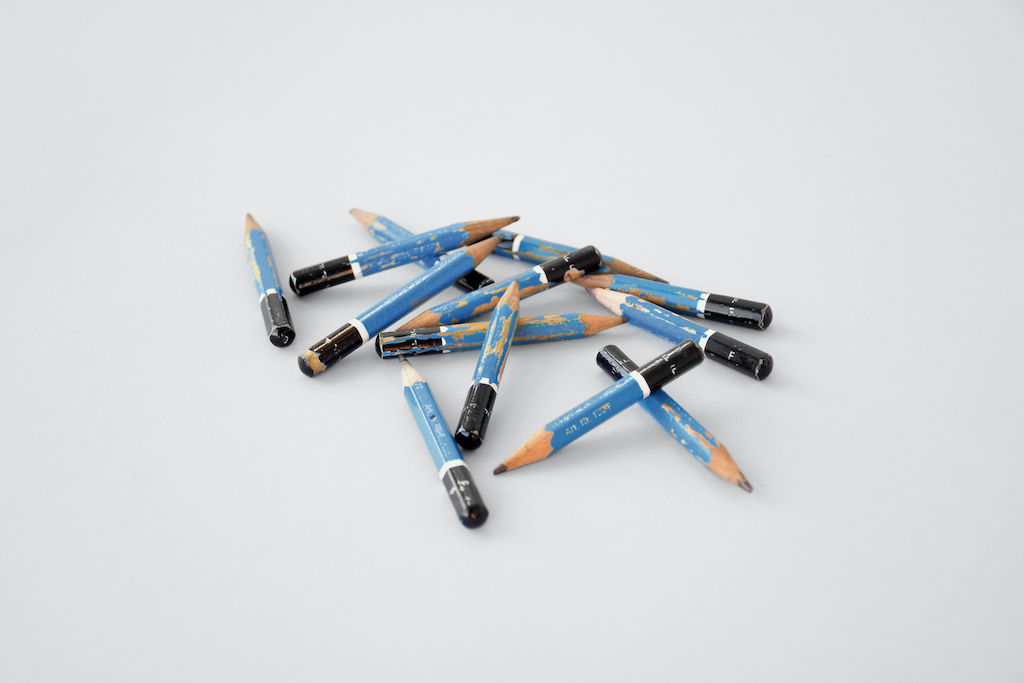 Pencils
I find these small pencils really practical and couldn't imagine my life without them. I've always got two or three with me, in the office, behind my ear or, when I'm out and about, in my pocket.
Elmar Ludescher, b. 1969, architect, Bregenz (Austria)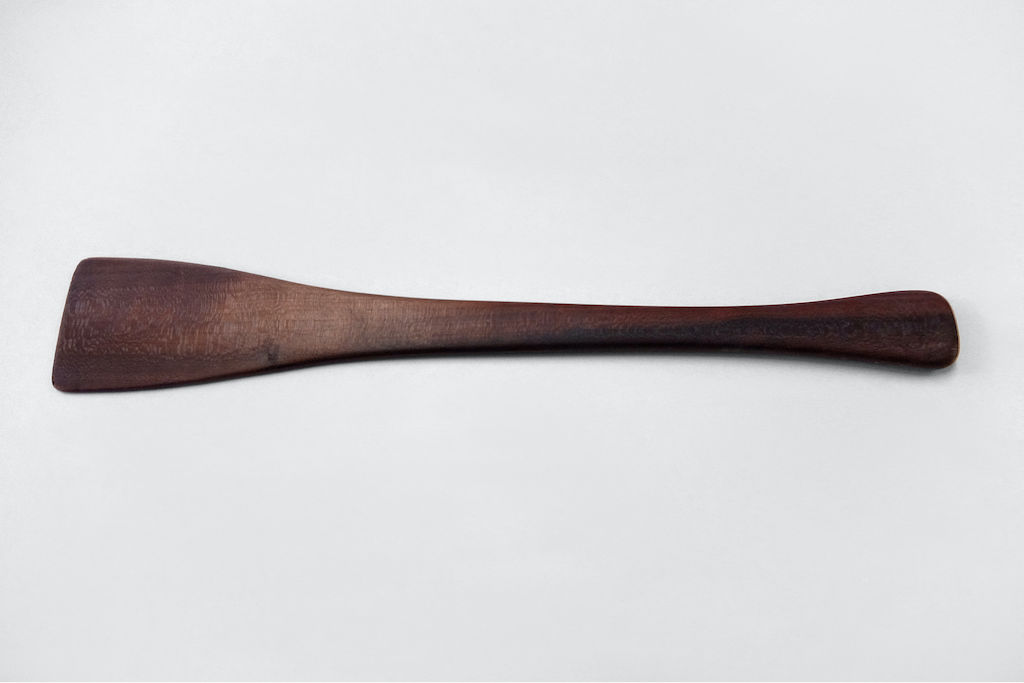 Spatula
Whether it's for fried eggs or pancakes in the morning, this spatula has become my friend, my kitchen assistant. It was made from pear wood by my brother-in-law, the sculptor Raimund Löhr. The end is shaped so that that you can grip it tightly, which also makes it very balanced when you hold it in the middle. The wood is dense, fine, and easy to take care of.
Philip Lutz, b. 1966, architect, Bregenz (Austria)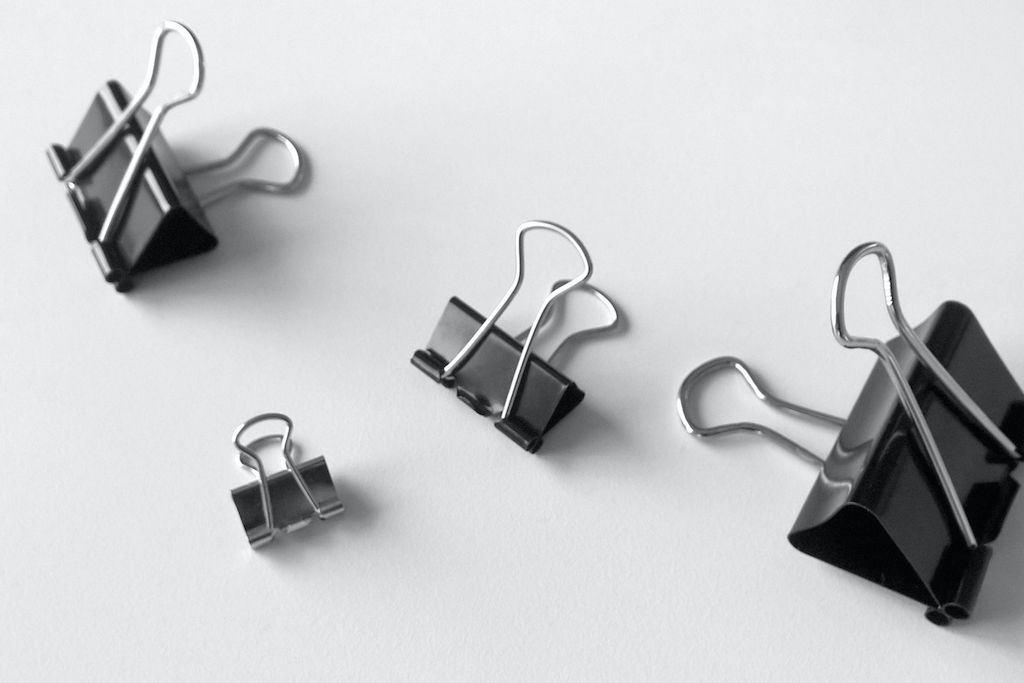 Bulldog clips
One of the easiest things to do is to throw around infantile "information," and one of the most common things is to demand attention. The excitement, the overexcitement for trivial states and opinions that hold no relevance, dominate the state of consciousness and determine how the concrete, the real environment, and what concerns the everyday is viewed. But in the "blind spot" of this hysterical paranoid perception there are objects—small objects—objects that hold the world together, that are inconspicuous and unexcited and simply there. You only notice them when they are missing and you do not know who invented or found them, they remain anonymous. One can observe with satisfaction that their inconspicuousness will survive any lifestyle, they are the essence of what they want to be, they remain humble, they do not promise more, and only when using them do you notice their character and all their intelligence. They are functional, full of grace and long-lasting—their existence is simply a stroke of luck.
Werner Neuwirth, b. 1964, architect, Vienna (Austria)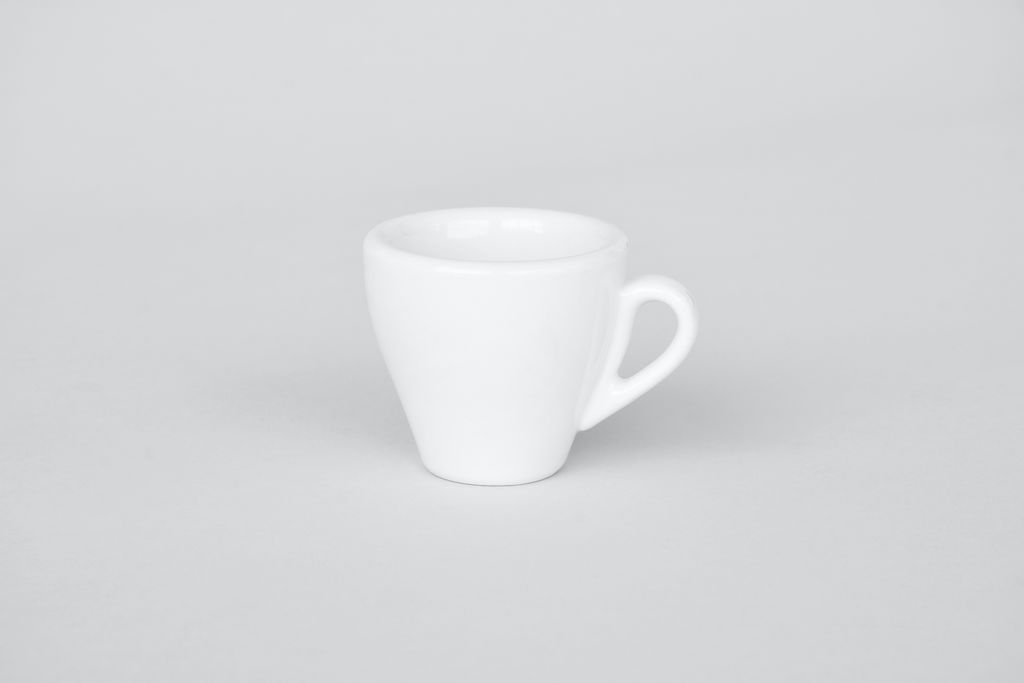 Espresso cup
I can't imagine how many espresso cups there are. What do they look like? They are stacked up on thousands of Cimbali or Faema machines, absorbing the heat of the metal plate. Waiting their turn, so to speak. Like penguins, who jump one after the other with their shimmering, white bellies. Each the same. One espresso after another, white cups, white bellies. A few movements and just like that they glide over the counter, lodge themselves between fingers and are gently cradled back and forth.
Briefly and inevitably, they end up in a position beyond the horizontal and only realize it when they see lips curling with relish above them. Their thick-walled bodies emit a concise sound as soon as they are put down, the ceramic slowly cools as the coffee grounds dry. Sometimes the cup is weighed in a hand again, until it is passed on to join the other white-bellied objects in the sink.
Simon Oberhammer, b. 1979, architect, Vienna (Austria)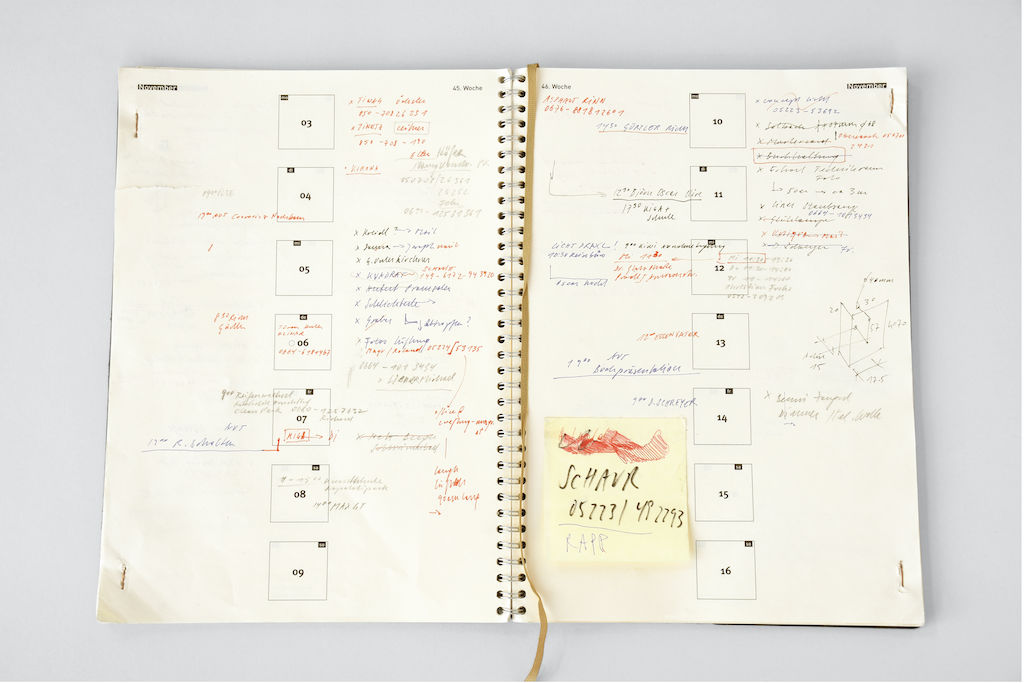 Calendar in A4 format
Thanks to the ring binding it can be opened out flat. Front and back covers made of black cardboard protect it well and do not make it too heavy. Tinted, uncoated paper in adequate grammage. One page per week, two weeks clearly side by side, the numbers of the calendar weeks are important.
Days of the week organized vertically on the page: "hierarchically"—usually following the intensity of the week, with a busy start at the top and a quieter end at the bottom. Page horizontally divided by the day squares: Often with work-related events on the left and private on the right—noteworthy information is recorded in the squares (e.g. birthdays). The days are not marked with the hours of the day—"neither lines nor numbers"—which corresponds to my everyday life and way of working.
An overview of the year at the front of the calendar, a preview of the next year after the 52 weeks, behind it 20 blank pages for notes and sketches.
In 2017 I was too late in ordering the calendar—sold out! I looked for a replacement and found one. Since then I have become aware of how closely my organization is visually connected to the calendar structure that I have used for years.
Martin Scharfetter, b. 1972, architect, Innsbruck (Austria)
PUBLICATION DATE: December 2019
TEXT: NOMOS Glashütte, aut. architektur and tirol, aut.cc
IMAGES: 1.–2. aut. architektur and tirol, 3. aut. architektur and tirol. Adjustable Table E 1027 by Eileen Gray, Manufacturer ClassiCon. Authorised by The World Licence Holder Aram Designs Ltd., London. 4.–7. aut. architektur and tirol