The watch strap could be forgiven for feeling somewhat envious—everyone always talks about the watches, movements, crystal glass, and dial designs. But in truth: Straps are just as important! But what exactly is so special about our watch straps? Where do they come from, how are they produced, what are they made from?
Brand new from NOMOS Glashütte: super robust, long-lasting stainless steel bracelets that are cool even when it's 40 degrees in the shade, ready to jump into the sea, and ultra-comfortable. There are two stainless steel bracelets from NOMOS Glashütte: the finer NOMOS bracelet—an elegant alternative to leather—and the sport bracelet, made of super slender (yet sturdy) stainless steel links joined together using groove/tongue connection.
These bracelets are equipped with particularly special clasps: The NOMOS bracelet comes with an elegant slide clasp, which makes it quick and easy to adjust the bracelet length. The length of the sport bracelet is adjusted by removing or adding individual links; for small adjustments (for example, to accommodate minor variations in wrist circumference during summer or in the post-Christmas period), simply use the fine adjustment pinholes in the deployant clasp.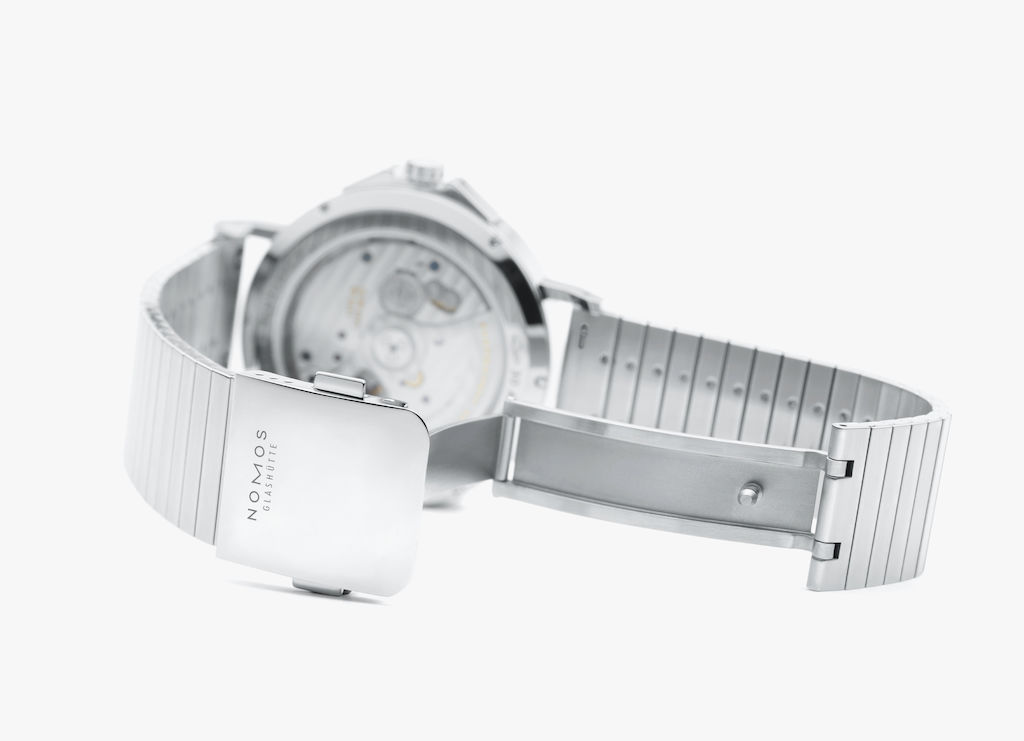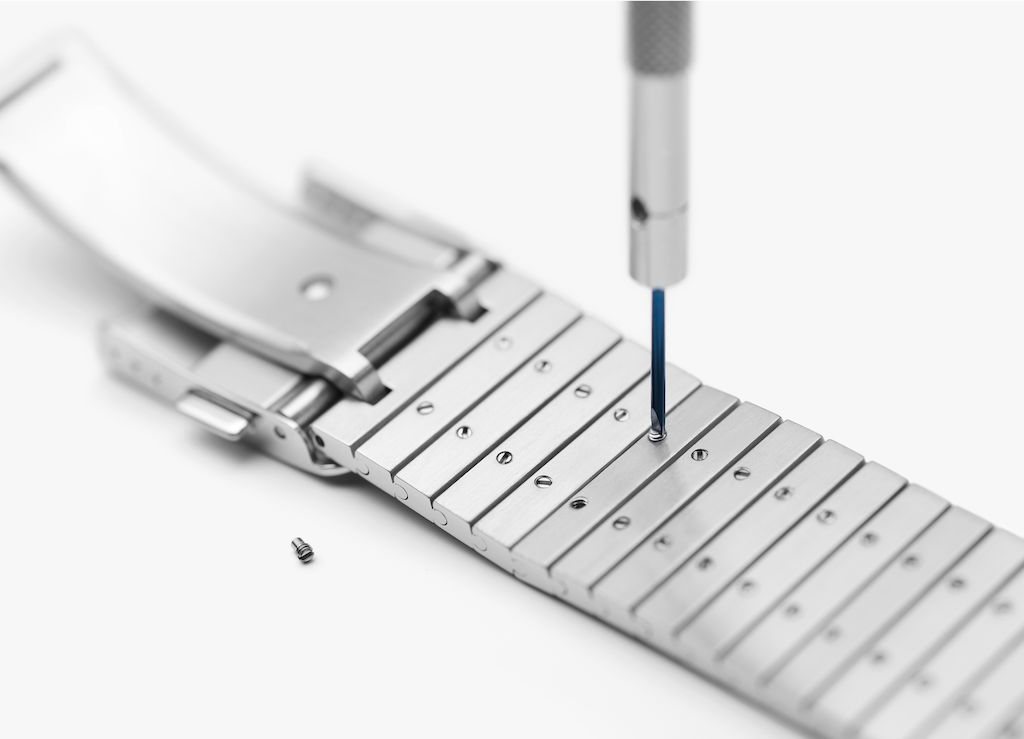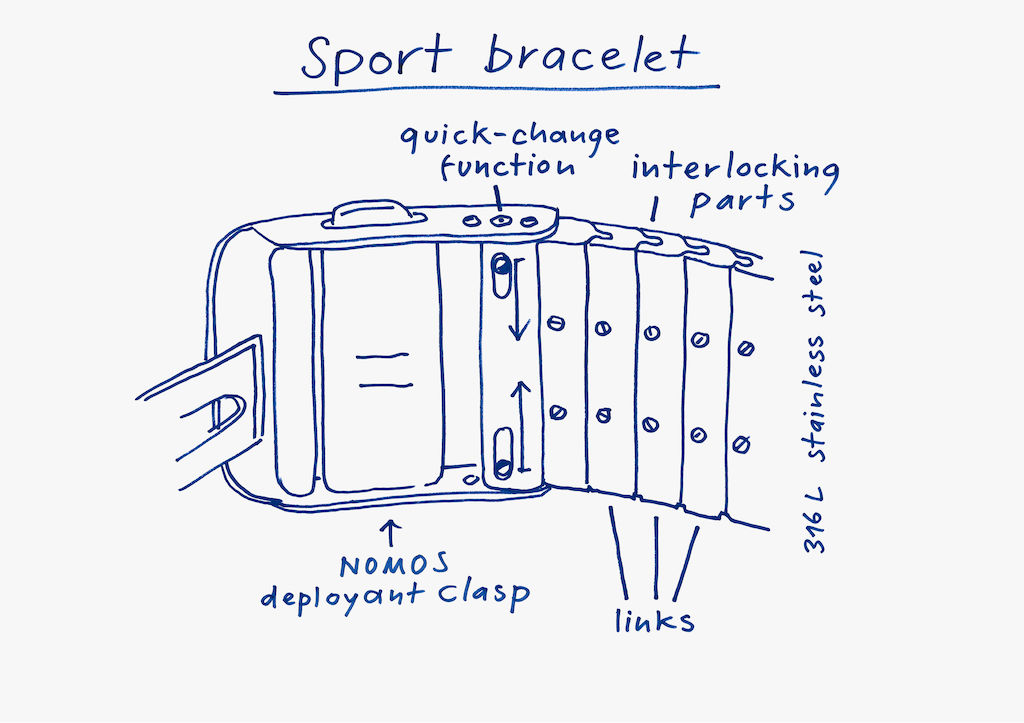 In detail: the components of the stainless-steel bracelet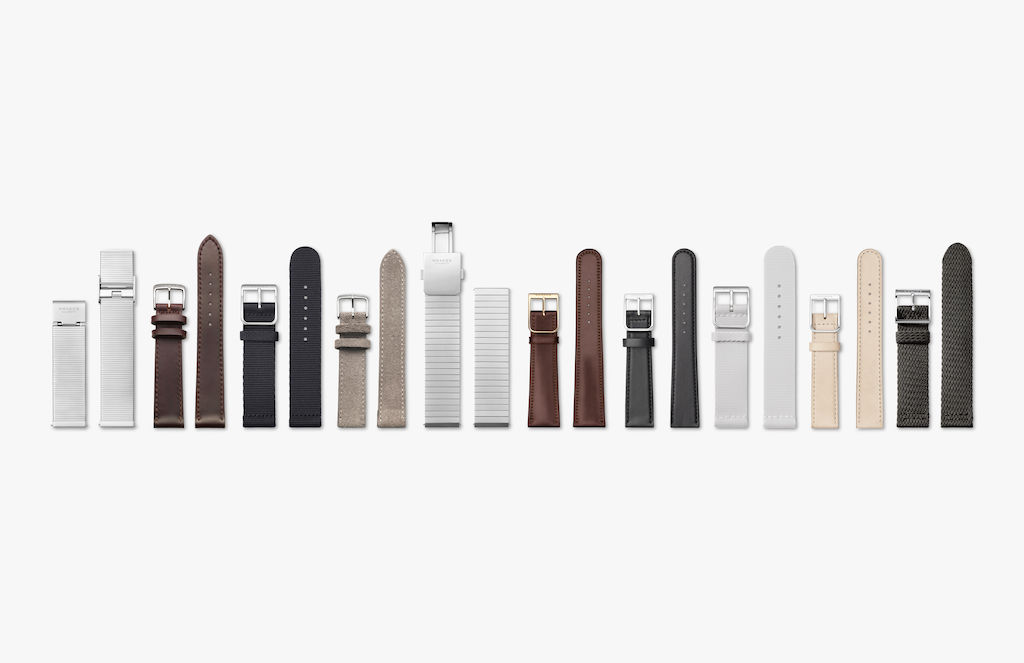 Made from metal, leather, or textile, NOMOS straps hail from Chicago, the Alps, a French weaving mill… which one do you like best?
For the majority of straps NOMOS Glashütte uses renowned Horween Genuine Shell Cordovan—by no means the simple type of horse leather that you may associate with shoes. Instead, this is leather from the croup: two small kidney-shaped parts on a horse's hindquarters, both of which are out of reach for the tail or teeth to shoo away pesky flies. Since the horse cannot reach this area, the skin here is particularly thick, dense, rich, and extremely durable. NOMOS sources this leather from Chicago, home of the more than 100-year-old Horween tannery, the same firm that makes the leather for the official ball of the Super Bowl. In an old building along the Chicago river, hides are cut, shaved, tanned and oiled by hand, and then glazed multiple times using glass jacks. A long and complicated process that works today the same way it did one hundred years ago. But the months of hard work and patience are worth it: These straps last longer than any other kind of leather strap known to NOMOS Glashütte.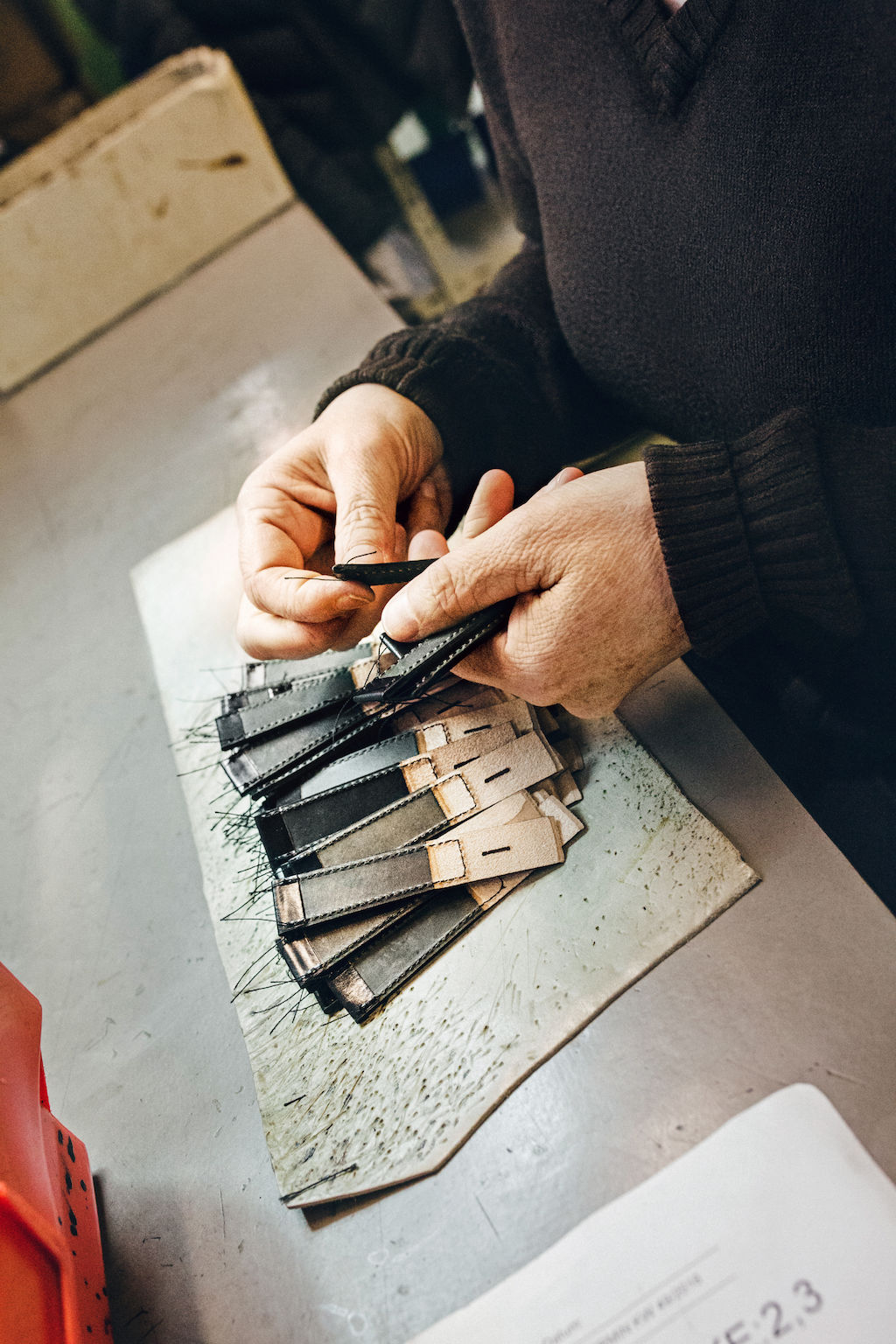 Quality control: Each detail is also checked by hand—here, for example, the side seams of soon-to-be Horween Genuine Shell Cordovan straps.
These wonderful straps come in various forms: with straight cut edges, remborde, and cushioned. For the remborde straps, the upper and lining leather are not only stitched together, but also joined together seamlessly. This prevents moisture and dirt from penetrating the leather, making the strap all the more robust. The straps of our gold watches are also finely cushioned, which gives them additional stability while providing the wearer an enhanced level of comfort.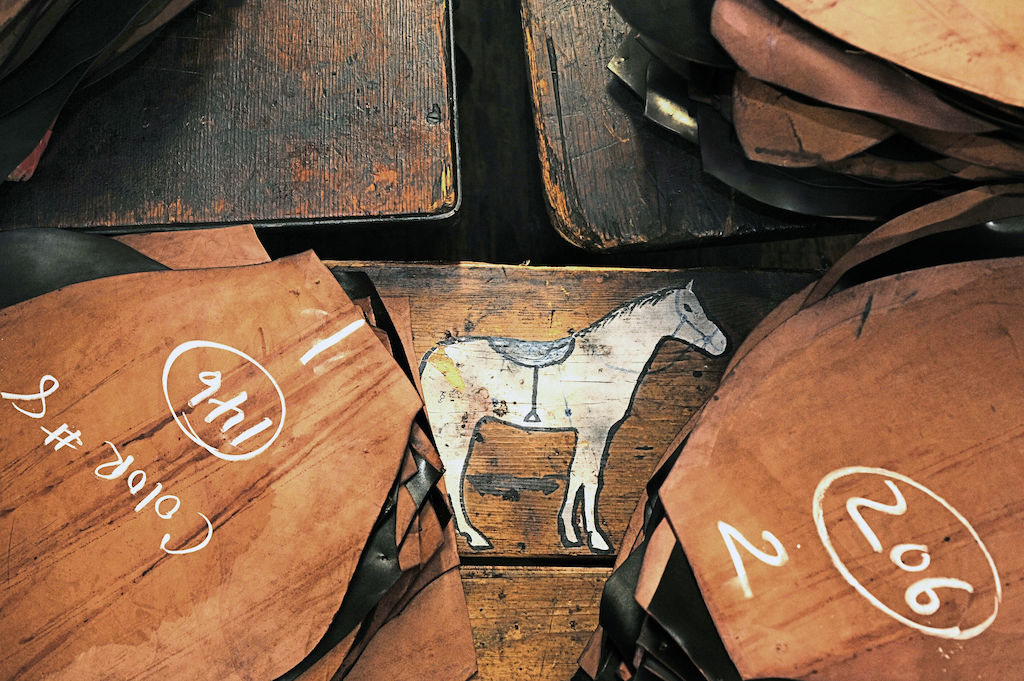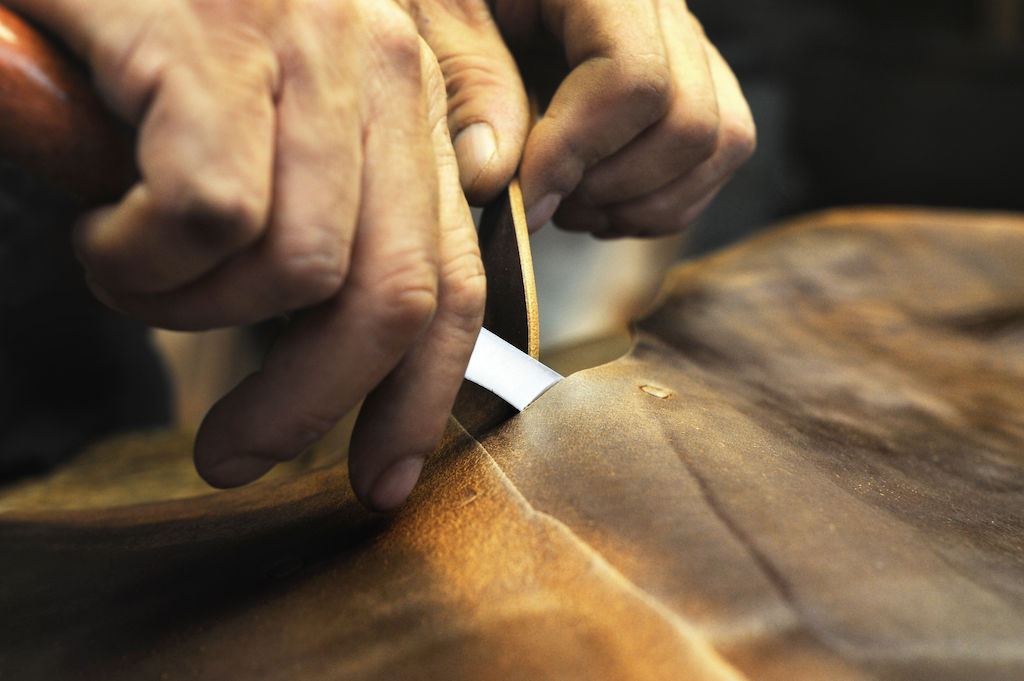 For more delicate wrists NOMOS Glashütte has more delicate watches—which come with an equally delicate strap. It is made of velour leather, making it look visibly softer while reflecting its quality origins: Tanned in Bavaria, this leather comes from Alpine calves. Also from southern Germany is the pastel strap made of cow leather. It adorns the neomatik watches with champagne-colored dials (among others), is purely vegetable-tanned, environmentally-friendly, and allergen-free. And just like some of the straps made of Horween Genuine Shell Cordovan, the cow leather strap has remborde edges.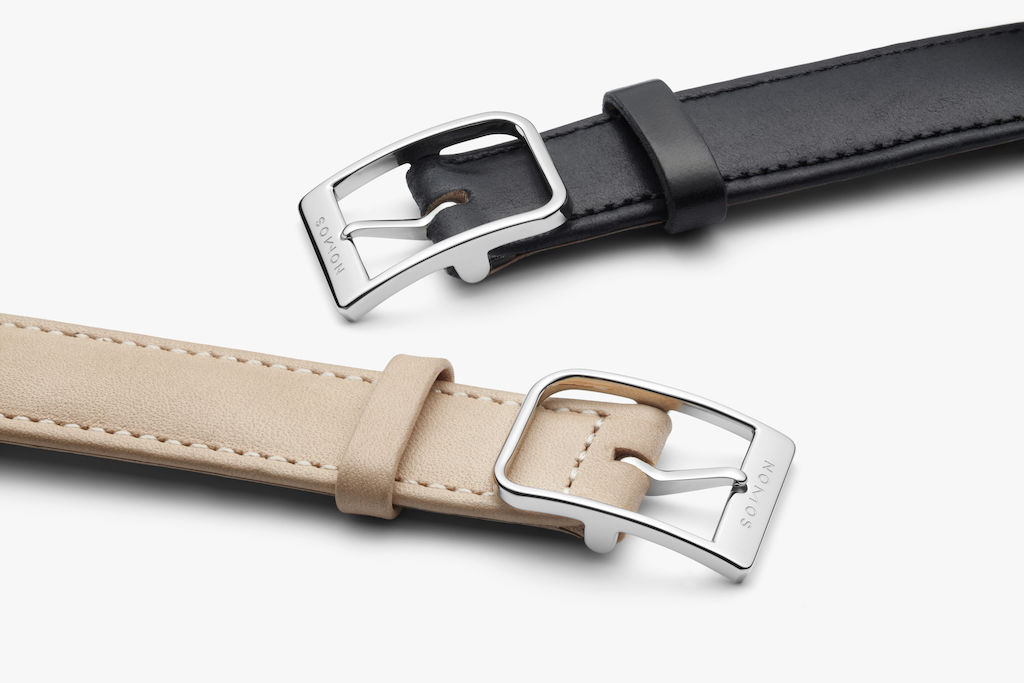 If leather or metal aren't enough, then we also have tailor-made NOMOS textile straps woven in France—beautiful, quick-drying, and of the utmost comfort. While the outside layer consists of a rough surface that withstands all kinds of scrapes and knocks, the finely woven underside sits softly and flush on the wrist: stylishly tear-resistant whether on land or in the sea.
Just like the watches, NOMOS clasps are made of stainless steel, so-called surgical steel 316L. There are also clasps in rose and white gold for the NOMOS gold watches. The stainless steel NOMOS deployant clasp is highly elegant and highly secure. It is available for purchase separately and fits all NOMOS leather straps with a lug width of 17 to 20 millimeters.
What is the right strap for your watch and your wrist? Find out here.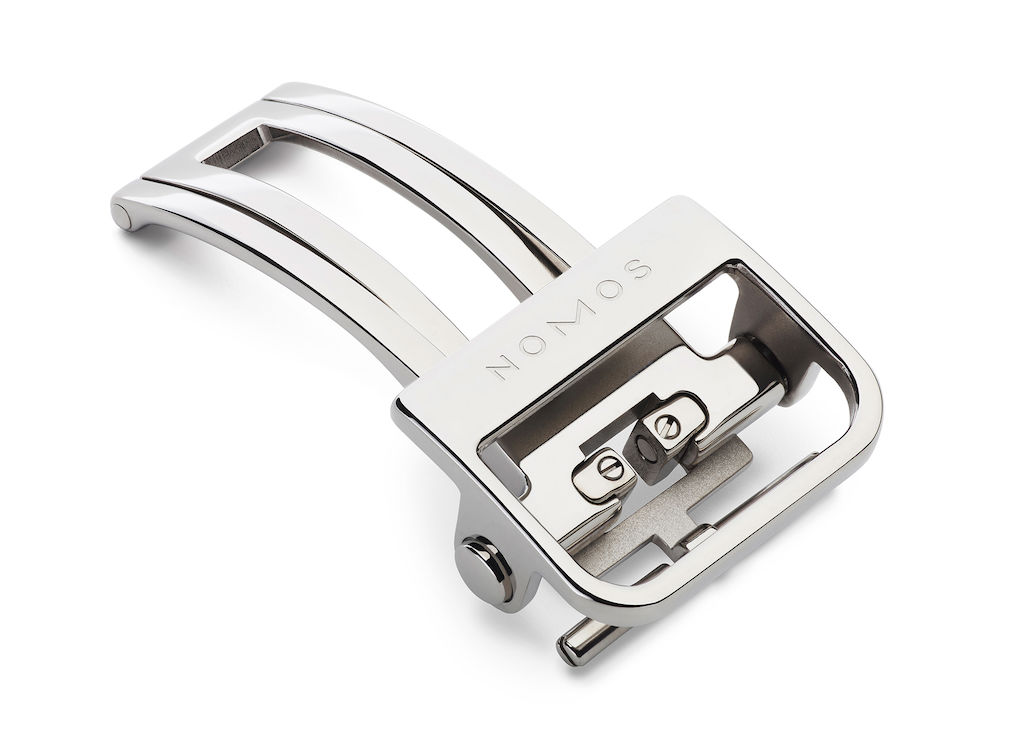 PUBLICATION DATE: May 2019
TEXT: NOMOS Glashütte
IMAGES: 1. NOMOS Glashütte/Sebastian Asmus, 2.–3. NOMOS Glashütte/Holger Wens, 4-5. NOMOS Glashütte, 6. Fluco, 7.–8. NOMOS Glashütte/Sebastian Asmus, 9.–10. NOMOS Glashütte